Publication:
Parásitos e inmunomodulación: Uso terapéutico de helmintos y derivados en enfermedades autoinmunes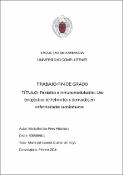 Authors
Advisors (or tutors)
Editors
Abstract
La prevalencia de enfermedades autoinmunes, como la enfermedad inflamatoria intestinal o la esclerosis múltiple, ha aumentado en la segunda mitad del siglo XX a un ritmo injustificable a nivel genético, sobre todo en los países industrializados. Este aumento trata de explicarse por muchas teorías. Uno de los factores en el punto de mira es la correlación inversa entre enfermedades autoinmunes e infecciones parasitarias. Muchos estudios epidemiológicos muestran que cada vez hay más evidencias de la posible relación causal de infecciones helmínticas y ausencia de enfermedades autoinmunes. La protección que confiere una infección helmíntica ante estas enfermedades parece deberse a un mecanismo de inmunomodulación estimulado por los helmintos. Esto ha conducido a la investigación de un posible uso terapéutico de los helmintos o productos derivados de ellos. Este trabajo es una revisión del mecanismo por el que se producirían estos efectos, de los datos experimentales existentes hasta la fecha y las perspectivas de futuro para el posible uso terapéutico de los helmintos o sus derivados.
The prevalence of autoimmune diseases such, as inflammatory bowel disease or multiple sclerosis, has increased in the last decades at a rhythm that cannot be attributed to a genetic evolution, especially in industrialized countries. This rise has tried to be explained by many hypotheses. An important factor taken into account is the inverse relationship between autoimmune diseases and parasitic infections. Many studies show increasing evidences of the causal relationship among helminthic infections and absence of autoimmune diseases. The protective role of the helminths seems to be a consequence of the immunomodulatory effects produced by helminthic infections. This has led researchers to study possible therapeutic approaches of helminths and of their products. This work explains the mechanisms responsible of these effects and reviews the existing experimental data and future perspectives of the therapeutic use of helminths and derived products.