Publication:
El aborto provocado en relación a la temática de la feminidad desde una perspectiva psicoanalítica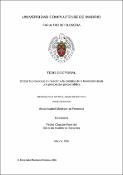 Files
Advisors (or tutors)
Gutiérrez Sánchez, Gerardo
Editors
Publisher
Universidad Complutense de Madrid
Abstract
Este trabajo de investigación tiene en cuenta la complejidad de la comprensión del aborto provocado desde la propuesta psicoanalítica sobre la feminidad planteada por Sigmund Freud durante los años 1930 y que toma en consideración el aporte, a fin de cuentas tardío, de la importancia de la relación preedípica entre la niña y la madre para reorientar toda la escucha y la comprensión del devenir mujer. Con este enfoque teórico se privilegia el vínculo madre-hija en relación a la decisión de la interrupción voluntaria del embarazo. El propósito de esta investigación es abordar el tema del aborto provocado en relación a la feminidad desde la experiencia clínica y revisar los supuestos teóricos psicoanalíticos dejando abierto el diálogo a otras áreas de conocimiento. Es primordial en la investigación de esta tesis la apoyatura en la experiencia, a la que se añade la comprensión de algunos fenómenos históricos y sociales que ayudan a situarnos como sujetos en un momento social determinado respecto al aborto provocado y la feminidad. En ese marco se propone una profundización teórico-clínica que aporte herramientas de trabajo para la atención psicológica y la salud integral de la mujer; en los casos de aborto provocado que contemple la plena realización de los derechos humanos en un marco de libertad y responsabilidad. Para ello se recurrió a una investigación de tipo descriptivo-cualitativo con dos perspectivas, una que analiza el discurso de grupos y la otra de carácter teórico-clínico con una muestra de material de pacientes en proceso psicoanalítico que han pasado por la experiencia del aborto provocado...
This research has taken into account the complexity of the understanding of induced abortion from the psychoanalytic proposal about womanhood discussed by Sigmund Freud during the 1930s and takes into consideration the contribution, which turned out to be late, of the importance of the pre-Oedipus complex between the daughter and mother to redirect all the hearing and the understanding of the women to be. With this theoretical focus, priority is given to the mother-daughter bond in relation to the decision of the voluntary interruption of the pregnancy. The purpose of this research is to approach the theme of induced abortion in relation to womanhood from the clinical experience and review the theoretical psychoanalytical cases leaving the dialogue open to other areas of understanding. The support from experiences is fundamental to the research of this thesis, and also the understanding of some historical and social events help to situate ourselves as subjects in a socially determined time respecting induced abortion and womanhood. In this situation, a theoretical-clinical elaboration is proposed which provides working tools for the psychological care and complete health of the mother; in the case of induced abortion that allows the full realization of human rights in the situation of freedom and responsibility. This resorted to a descriptive-qualitative type of research with two perspectives, one that analyses group discourses and the other that has a theoretical-clinical nature with samples of patient material in psychoanalytical process that have gone through the experience of induced abortion...
Description
Tesis inédita de la Universidad Complutense de Madrid, Facultad de Filosofía, leída el 15-01-2016
Collections