Publication:
Antropología social, enfoques (auto)biográficos y vigilancia epistemológica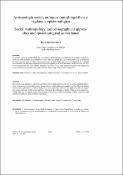 Authors
Advisors (or tutors)
Editors
Publisher
Universidad Complutense de Madrid
Abstract
El artículo evalúa las posibilidades de conocimiento generadas por la utilización de enfoques biográficos, desde una doble premisa: la necesidad de recabar datos que ponen en juego la temporalidad, y la obligación de tener presentes tanto las falsas expectativas como las dificultades que dicho uso engendra. Se examinan sucesivamente las posiciones respectivas de los investigadores y de sus informantes, la influencia de los hábitos de pensamiento del conocimiento ordinario, así como lo que cabe esperar de herramientas heurísticas como el análisis contextual (social, intra-textual e intertextual) y la práctica comparativa.
This article is an attempt to evaluate possibilities of knowledge generated by the use of biographical approaches. It comes out of a twofold premise: the necessity to collect data on temporality and the obligation to keep in mind false expectations as well as difficulties which come from their use. The paper examines the respective position between field workers and their informants, the influence of habits of thought in common knowledge and what we should expect from heuristic tools such as contextual analysis (social, intratextual and intertextual analyses) and comparative practice.
Collections