Publication:
Los bonos catástrofe: el caso específico de los bonos pandemia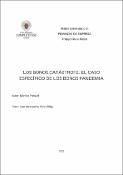 Authors
Advisors (or tutors)
Editors
Abstract
Desde hace dos décadas el riesgo de desastres catastróficos ha aumentado considerablemente, por lo que el sector asegurador y las organizaciones internacionales se han visto obligadas a encontrar soluciones de cobertura alternativas como los bonos catástrofe, a través del mercado de Activos Vinculados a Seguros. Entre los mayores riesgos catastróficos se encuentra una pandemia, cuya probabilidad de ocurrencia es muy baja, pero cuyas consecuencias son devastadoras. Desde finales de 2019, la COVID-19 ha golpeado a la mayoría de los países de todo el mundo, dejando más de tres millones de muertes tras un año y medio y secuelas sociales, económicas y sanitarias gravísimas. En dicho contexto, este trabajo investiga los bonos pandemia, un instrumento financiero de renta fija innovador, nacido con el fin de proporcionar ayuda económica a países de bajos ingresos que se enfrentan a una pandemia. Básicamente, si ninguna pandemia ocurre hasta el final de la vida del bono, los inversores cobran sus elevados cupones periódicos y el principal a vencimiento, mientras que, si ocurre, pueden llegar a perder toda su inversión. Estos instrumentos son fruto de la colaboración entre el Banco Mundial, la industria de seguros y el mercado de capitales; y se incluyen en un panorama financiero de salud pública en crecimiento, donde el capital privado es cada vez más importante. Específicamente, se estudia la emisión de bonos pandemia de 2017 del International Bank for Reconstruction and Development (IBRD), una institución del Banco Mundial, describiendo sus características, funcionamiento y estructura, así como sus principales riesgos y ventajas e inconvenientes. A pesar de mostrar todavía numerosos defectos, los bonos pandemia tienen el potencial de resolver, al menos en parte, las carencias de financiación que presenta la salud pública hoy en día a la hora de enfrentarse a una pandemia.
During the last two decades the risk of catastrophic disasters has increased considerably, forcing the insurance industry and the international organizations to find alternative coverage solutions such as catastrophe bonds, through the Insurance Linked Securities Market (ILS). Among the worst catastrophic risks there is a pandemic, whose probability of occurrence is very low, but the consequences are devastating. Since the end of 2019, COVID-19 has hit most countries around the world, leaving more than 3 million deaths a year and a half later, and serious social, economic and health repercussions. In this context, this investigation studies pandemic bonds, an innovative fixed- income security, created with the aim of providing economic aid to low-income countries facing a pandemic. Basically, if no pandemic occurs until the end of the bond's life, investors collect their periodic high coupons and principal at maturity, while if it does, they may lose their entire investment. These instruments are the result of the collaboration between the World Bank, the insurance industry and the capital market and are included in a growing public health financial landscape, where private capital is increasingly important. Specifically, this investigation focuses on the 2017 pandemic bond issuance of the International Bank for Reconstruction and Development (IBRD), a World Bank institution, describing its characteristics, structure, main risks, as well as the advantages and disadvantages. Despite showing many flaws, pandemic bonds have the potential to solve, at least in part, the lack of financing that public health presents today when facing a pandemic.