Publication:
El giro hispanófilo: configuraciones de lo hispano en Argentina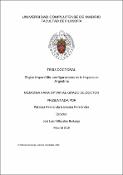 Files
Advisors (or tutors)
Editors
Publisher
Universidad Complutense de Madrid
Abstract
Este trabajo indaga en los orígenes del hispanoamericanismo en Argentina en torno al año 1910. Será abordado, en primer lugar, como el discurso de un movimiento cultural que buscaba la construcción de un espacio intelectual compartido, pero a su vez, como una operación de ruptura con la generación anterior.Durante el siglo XIX, España había sido vista por los hombres de letras argentinos como un país rezagado y de cuyo legado había que apartarse. A la independencia política debía seguirle la cultural. España era aquel país en los límites de la civilización, que no había alcanzado un progreso y un orden político al nivel de otros países europeos. Asimismo, América era la tierra de la barbarie, donde la naturaleza aún dominaba al hombre. Había que civilizar, para lo cual era necesario implantar las costumbres de otros pueblos, esto es, de la Europa del progreso. España, por su letargo, quedaba en los márgenes de aquella Europa ilustrada e industrial.Sin embargo, en la primera década del siglo XX se produce un giro hispanófilo en Argentina. Varias fueron las circunstancias que tuvieron lugar para que eso sucediera. El modernismo sentó las bases de una comunidad letrada al hacer que por primera vez circularan ideas y saberes entre las repúblicas hispanohablantes, y más tarde, España. Un lenguaje y una literatura comunes fueron la condición para que apareciera el hispanoamericanismo. Pero es con el intervencionismo de los Estados Unidos que el movimiento comienza a delimitar sus rasgos. La amenaza militar, pero más aún la de ser absorbidos culturalmente por la nueva potencia, acelera el ritmo de su gestación..
This work explores the origins of Hispanic-Americanism in Argentina around the year 1910. It will be addressed, first, as the discourse of a cultural movement that sought the construction of a shared intellectual space. But, in turn, it will be a rupture operation with the previous generation. During the nineteenth century, Spain had been seen by the Argentinian men of letters as a backward country and they stablished the need of turning away from it. Political independence must been followed by cultural independence. Spain was that country in the limits of barbarians, where progress and political order have not been reached at the level of other European countries. Likewise, America was the land of barbarism, where nature still dominated man. It was necessary to civilize by implanting the customs of other peoples, that is, of the Europe of progress. Spain, because of its lethargy, remained on the margins of that enlightened and industrial Europe...
Description
Tesis de la Universidad Complutense de Madrid, Facultad de Filosofía, leída el 05-12-2018
Collections