Publication:
Las revistas especializadas en Biblioteconomía y Documentación en España durante en siglo XIX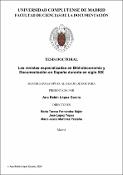 Files
Authors
Advisors (or tutors)
Editors
Publisher
Universidad Complutense de Madrid
Abstract
Durante el siglo XIX se produce en España el nacimiento y desarrollo de algunas instituciones documentales del momento, el establecimiento de la profesionalización del sector con la fundación de instituciones como la Escuela Superior de Diplomática (1856) que se convirtió en el primer centro de formación de especialistas en documentación en nuestro país y el Cuerpo Facultativo de Archiveros, Bibliotecarios y Anticuarios (1858) que se instituyó con la función de organizar los archivos, bibliotecas y museos para legitimar históricamente la soberanía nacional. También tuvo lugar la concreción de unas políticas públicas de ámbito estatal en la que los archivos generales, las bibliotecas públicas y museos arqueológicos se vinculan al ramo de la Instrucción Pública. El objeto de la presente tesis doctoral es presentar, dentro de este ámbito del grupo de revistas especializadas o relacionadas con el dominio de las disciplinas documentarias, los datos que permiten identificar, examinar y valorar la existencia de las revistas españolas que contenían artículos relacionados con las materias documentarias durante el siglo XIX en España. A través de estas publicaciones, el lector podrá conocer un elenco de los temas que interesaban más, así como los autores más representativos que firmaban los artículos, quién las dirigía, qué objetivos perseguían, sus fines, características, entre otros...
During the nineteenth century in Spain the birth and development of some documentary institutions of the time took place, the establishment of the professionalization of the sector with the foundation of institutions such as the Higher Diplomatic School (1856) that became the first training center for documentation specialists in our country and the Optional Body of Archivists, Librarians and Antique Dealers (1858) that was established with the function of organizing archives, libraries and museums to historically legitimize national sovereignty. Also took place the concretion of public policies of scope took place state in which the general archives, public libraries and archaeological museums are linked to the branch of Public Instruction. The purpose of this doctoral thesis is to present within this area of the group of specialized journals or related to the domain of documentary disciplines, the data that allows the identification, examination and assessment of the existence of Spanish journals that contained articles related to the subjects, documentaries during the 19th century in Spain. Through these publications the reader will be able to know a list of the topics that most interested them, as well as the most representative authors who signed the articles, who directed them, what objectives they pursued, their purposes, characteristics, among others...
Description
Tesis inédita de la Universidad Complutense de Madrid, Facultad de Ciencias de la Documentación, leída el 16/10/2020
Collections