Publication:
Estudio del fraccionamiento de la lignocelulosa mediante procesos con disolventes y los estudios para el análisis y aprovechamiento de las fracciones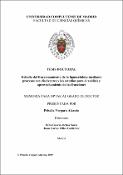 Files
Authors
Advisors (or tutors)
Editors
Publisher
Universidad Complutense de Madrid
Abstract
La biomasa lignocelulósica (BLC) es la más abundante fuente renovable para la producción sostenible de bio-combustibles, biomateriales y productos químicos, con la ventaja de no competir por el terreno cultivable. Está compuesta mayoritariamente por celulosa, el componente más fácil de valorizar e inmersa en una matriz de hemicelulosaslignina, por lo que precisa de un pre-tratamiento para hacerla accesible a la acción deenzimas y reactivos. Entre los pre-tratamientos más utilizados se encuentran la explosión con vapor, el tratamiento con ácido sulfúrico diluido (DSA, "diluted sulfuric acid") y la extracción con agua caliente. En todos ellos, el gasto energético condiciona su viabilidad...
Lignocellulosic biomass (LCB) is the most abundant renewable source for the sustainable production of bio-fuels, biomaterials and chemical products, with the advantage of not competing for arable land. LCB is composed mainly of cellulose, the component that is easiest to value and immersed in a matrix of hemicelluloses-lignin. Thus, a pre-treatment is needed to make cellulose accessible to the action of enzymes and reagents. The most commonly used pre-treatments include steam explosion, diluted sulfuric acid (DSA) and hot water extraction. In all of them, the energy expenditure determines its viability...
Description
Tesis inédita de la Universidad Complutense de Madrid, Facultad de Ciencias Químicas, Departamento de Ingeniería Química y Materiales, leída el 04-10-2019
Collections