Publication:
Desarrollo global y países emergentes: retos para la política de cooperación de la UE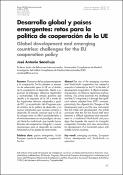 Authors
Advisors (or tutors)
Editors
Abstract
El ascenso de los países emergentes y la cooperación Sur Sur plantea un escenario de adversidad para la UE en el ámbito de la cooperación al desarrollo. Afecta a su posición de liderazgo, influencia, legitimidad y normatividad. Este artículo examina este desafío y la respuesta de la UE a través de las importantes reformas adoptadas a partir de 2011 y, en particular, del «Programa para el cambio» de la política de desarrollo y los nuevos instrumentos que vinculan comercio y desarrollo. El artículo concluye que la UE se ha situado entre un difícil acomodamiento y el atrincheramiento en un paradigma de ayuda Norte-Sur tradicional, que impide buscar fórmulas de cooperación triangular y nuevas asociaciones para el desarrollo de carácter horizontal con los países de renta media.
The rise of the emerging countries and South-South cooperation has created a scenario of adversity for the EU in the field of development cooperation. It affects its leadership position, its influence, legitimacy and normativity. This article examines this challenge and the EU's response to it through the significant reforms adopted from 2011 onwards, particularly, the «Agenda for Change» of the development policy and the new instruments that link trade and development. The article concludes that the EU has found itself stuck between a difficult adjustment and entrenchment in a traditional North-South aid paradigm that impedes the search for triangular cooperation formulas and new associations for development of a horizontal nature with middle-income countries.
Collections