Publication:
Haemoproteus minutus is highly virulent for Australasian and South American parrots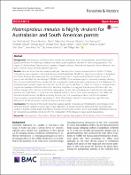 Advisors (or tutors)
Editors
Abstract
Background: Haemoproteus and Plasmodium species are widespread avian blood parasites. Several Plasmodium species are known for their high virulence and have caused significant declines in naïve bird populations. The impact of closely related Haemoproteus parasites is largely unknown. Recently we reported a lethal disease in two parrot aviaries caused by Haemoproteus parasites. Results: Here we show that the causative pathogen Haemoproteus minutus is responsible for further 17 lethal outbreaks in parrot aviaries in Denmark, Germany and Great Britain. All affected parrots are endemic to Australasia and South America. We sequenced the cytochrome b gene from megalomeront-infected muscle tissue of 21 parrots and identified the two lineages TUPHI01 and TURDUS2 as causative agents, commonly naturally infecting the common blackbird (Turdus merula) and the song thrush (Turdus philomelos), respectively, in the Palaearctic. No intraerythrocytic parasite stages were found in any of the parrots. We failed to detect H. minutus in invasive Indian ring-necked parakeets (Psittacula krameri) in Germany. Together this suggests that abortive infections with two virulent lineages of H. minutus are lethal for naïve parrot species from Australasia and South America. We asked whether we could detect H. minutus in New Zealand, where its Turdus hosts were introduced in the 1800s. We therefore tested invasive blackbirds and song thrushes, and the co-existing endemic red-fronted parakeet (Cyanoramphus novaezelandiae) population on three New Zealand islands. No Haemoproteus spp. DNA was detected in all blood samples, indicating absence of transmission. Conclusions: The results of this study show that captive parrots in Europe are threatened by two lineages of an otherwise benign parasite of Turdus spp. Aviary collections of parrots should be protected from Culicoides spp. vectors in Europe. Animal trade and climate changes extending the current vector and parasite distribution have to be considered as potential risk factors for the introduction of the disease in naïve parrot populations.
Collections