Publication:
Efficient white-light emission from Zn_2GeO_4 nanomaterials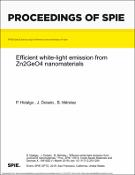 Advisors (or tutors)
Editors
Abstract
Zn_2GeO_4 is a novel transparent conductive oxide material, with an ultra-wide band gap of 4.5 eV, and rather good electrical conductivity. Zn_2GeO_4 nano-and microwires grown by a thermal technique show two intense emission bands centered in the UV and VIS region, respectively. In this work, we have studied the correlation between luminescence and structural properties in undoped and Mg doped samples. The waveguiding behavior of the microrods has been assessed by the excitation with a 325 nm laser and analysis of the transmitted light along the structure. The intense white luminescence of Zn_2GeO_4 nanomaterials makes them of interest as efficient phosphors for field emission displays.
Description
© 2019 SPIE Conference on Oxide-Based Materials and Devices(10. 2019. San Francisco) ISSN: 0277-786X This work has been supported by MINECO projects MAT 2015-65274-R/FEDER and M-ERA. NET PCIN-2017-106
Collections