Publication:
Violencia en el entorno sanitario: un análisis teórico y metodológico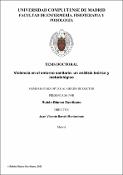 Files
Authors
Advisors (or tutors)
Editors
Publisher
Universidad Complutense de Madrid
Abstract
La violencia ha sido un acontecimiento omnipresente en la historia humana y sigue estando presente en muchos de los escenarios en los que se desenvuelve la vida diaria de las personas. Uno de estos escenarios es el entorno laboral, y más concretamente, el entorno sanitario. Cuando hablamos de violencia en este entorno nos estamos refiriendo a acciones físicas o verbales intencionalmente dirigidas contra personas en el desempeño de su trabajo y que atentan contra su seguridad, su salud y su bienestar, poniendo al mismo tiempo en peligro el adecuado funcionamiento de la organización. En esta Tesis, hemos optado por un estudio y reflexión teórica en torno a la violencia que se comete en los entornos sanitarios contra los profesionales de la salud. Asimismo, se aborda uno de los problemas a los que se ha enfrentado la investigación contra la violencia de los profesionales de la salud, el de la metodología para su estudio.
Violence has been an omnipresent event in human history and is still present in many environments in people's daily lives. One of these environments is the work environment, and more specifically, the healthcare system. When we talk about violence in this environment we are referring to physical or verbal actions intentionally directed against people in the performance of their work and that threaten their safety, health and well-being, while putting at risk the proper functioning of the organization. In this Thesis we have developed a theoretical reflection on the violence committed in healthcare environments against healthcare professionals. Furthermore, we have reviewed one of the problems faced by the research against the violence of healthcare professionals: the methodology for its study.
Description
Tesis inédita de la Universidad Complutense de Madrid, Facultad de Enfermería, Fisioterapia y Podología, leída el 05/02/2021. Tesis formato publicaciones (compendio de artículos)
Collections