Publication:
Aplicación de domótica en el contexto de IoT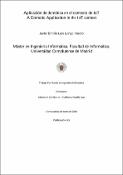 Authors
Advisors (or tutors)
Barrio García, Alberto A. del
Editors
Abstract
Hoy en día es habitual encontrar dispositivos IoT en fábricas, centros de logística, en las ciudades e incluso en los hogares. Sin embargo, el despliegue de cientos de millones de dispositivos acarrea consigo un incremento en el consumo energético. Por ello, ha surgido un gran interés en cómo disminuir este consumo ya sea mediante protocolos ligeros o conectando al IoT dispositivos de ultra bajo consumo energético. Para ello, por un lado, se han desarrollado protocolos ligeros cómo CoAP (Constrained Application Protocol) siguiendo el modelo cliente-servidor de HTTP o MQTT (Message Queue Telemetry Transport) basado en el modelo publish-subscribe, que es una alternativa al modelo clienteservidor. Por otro lado, se han creado chips de red que contienen la pila TCP/IP lo cual habilita a microcontroladores de muy bajo consumo energético con limitaciones hardware importantes conectarse al IoT. En este trabajo se estudia el cómo conectar dispositivos de bajo consumo energético al IoT a través del desarrollo de una aplicación de domótica para medir la temperatura mediante sensores. El sistema utiliza chips de red para conectar dispositivos de ultra bajo consumo energético al IoT y los protocolos HTTP, UDP y MQTT para el intercambio de datos. Se han realizado pruebas para conocer el tiempo de transmisión para datagramas UDP entre dispositivos, el índice de pérdida de datos y la calidad del enlace inalámbrico. Los resultados obtenidos muestran que el sistema desarrollado tiene la capacidad de procesar 18 muestras de temperatura por segundo obtenidas de tres sensores distintos con un índice de recepción de datos del 99% y con un tiempo de transmisión medio de 88 ms por datagrama.
Nowadays is quite usual to find IoT devices in factories, logistics floors, in cities and even at home. However, the deployment of millions of devices leads to an increase in energy consumption. Therefore, there has been a great interest in how to reduce this consumption either by means of lightweight protocols or by connecting directly to the IoT ultralow energy consumption devices. For this, on the one hand, lightweight protocols have been developed such as CoAP (Constrained Application Protocol) following the client-server model of HTTP or MQTT (Message Queue Telemetry Transport) based on the publish-subscribe model which is an alternative to the client-server model. On the other hand, network chips have been created that contain the TCP/IP stack which enables ultra-low energy consumption microcontrollers with important hardware limitations to connect to the IoT. This thesis studies how to connect low energy consumption devices to the IoT through the development of a home automation application that measures temperature using sensors. The system uses network chips to connect ultra-low power consumption devices to the IoT and the HTTP, UDP and MQTT protocols for data exchange. Experiments were conducted to know the transmission time for UDP datagrams between devices, the data loss rate and the quality of the wireless link. The results obtained show that the developed system has the capacity to process 18 temperature samples per second obtained from three different sensors with a data reception rate of 99% and an average transmission time of 88 ms per datagram.
Description
Facultad de Informática, Departamento de Arquitectura de Computadores y Automática, Universidad Complutense. Curso 2018/2019