Publication:
20 años de coaliciones políticas y gabinetes en América Latina. casos : Argentina y Chile (1990-2010)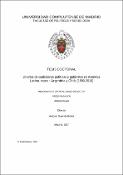 Files
Authors
Advisors (or tutors)
Editors
Publisher
Universidad Complutense de Madrid
Abstract
Esta investigación intenta contribuir a profundizar el conocimiento que se posee actualmente sobre las coaliciones políticas ejecutivas o gabinetes de coalición que se manifiestan en el presidencialismo; en particular, pretende ahondar sobre su tipología, ciclo de vida y consecuencias políticas en términos de eficacia legislativa que se derivan de las mismas. El esfuerzo se concentra en identificar sus particularidades en marcos presidenciales, reconociendo y adoptando los diversos aportes teóricos que incorporan esta lógica, dado que su existencia es de una mayor habitualidad que la esperada para este tipo de contexto institucional. Por tanto, se utilizan los aportes teóricos que surgen de una revisión crítica y discusión que se realiza de las teorías sobre las coaliciones políticas iniciada con los estudios de Riker4, junto a los aportes de otros teóricos que fueron incorporando elementos que permiten su estudio en entornos parlamentarios y presidenciales5. Aun cuando se reconoce que en este último caso existe una mayor preocupación por explicar las limitaciones y restricciones que presentan las democracias presidenciales para estimular su formación y mantenimiento más que profundizar sobre los distintos tipos que pueden manifestarse, los factores que influyen en su ciclo de vida y las consecuencias políticas que las mismas generan en los países en los que se presentan...
This investigation is meant to contribute to the knowledge that people have, nowadays, about the executive political coalitions or coalition cabinets that are manifested in the presidential rule; particularly, it pretends to go deeper in its typology, life cycle political consequences in terms of political legislative efficiency that are derived from them. The effort is concentrated in trying to show its particularities in presidential frameworks by acknowledging and adopting the different theoretical approaches that incorporates this logic, given that its existence is more common than expected for this kind of institutional context. Therefore, a theoretical contribution is carried out. This contribution is the result of a critical revision and discussion that is carried out of the other theories about the political coalition, initiated with the Riker1 studies, together with the theoretical contributions of other theorists that were incorporating elements that allow its study in parliamentary and presidential contexts2. Even when it is recognized that in this last case there is a greater concern to explain the limits and restrictions that the presidential democracies present to stimulate its formation and maintenance than going deeper into the different kinds that can manifest, the factors that influence in its life cycle and the political consequences that they generate in the countries that they are presented...
Description
Tesis inédita de la Universidad Complutense de Madrid, Facultad de Ciencias Políticas y Sociología, leída el 22-11-2016
Collections