Publication:
Paisajes Vinculados. Hacia nuevas perspectivas de Ecología y Restauración Ecológica en el Arte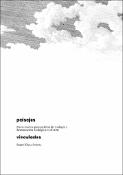 Authors
Advisors (or tutors)
Editors
Publisher
Facultad de Bellas Artes, Sección Departamental de Historia del Arte III (Contemporáneo)
Abstract
Paisajes vinculados es una reflexión acerca del lugar que pueden ocupar las prácticas artísticas en el terreno de la ecología, en un momento en que parece necesaria su colaboración en la protección y recuperación de territorios degradados y en el desarrollo de una nueva ética ecocéntrica. En ese contexto surgió Proyecto Arrecife, que propone el trabajo artístico como vía para despertar, desde la colectividad, la responsabilidad personal con el territorio. Porque un paisaje degradado no sólo refleja el deterioro del lugar, sino también el de una forma de relacionarnos con el entorno: tan importante es la rehabilitación de un territorio como la de las conciencias que lo habitan y lo gestionan.
"Linked landscapes" is a reflection about the place that artistic practices can occupy in the field of ecology, at a time when it seems necessary to collaborate in the protection and recovery of degraded territories and in the development of a new ecocentric ethics. In this context "Arrecife Project" arose, which proposes the artistic work as a way to awaken, from the community, personal responsibility to the territory. Because a degraded landscape not only reflects the deterioration of the place, but also a way of relating to the environment: so important is the rehabilitation of a territory as the consciences that inhabit and manage it.
Collections