Publication:
Exceptional properties of [n]CPPs: why molecular morphology and size matter?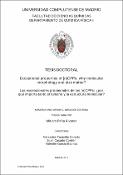 Files
Authors
Advisors (or tutors)
Editors
Publisher
Universidad Complutense de Madrid
Abstract
Cycloparaphenylenes ([n]CPPs from now on), were firstly synthesized in 2008, and promptly joined the fascinating world of carbon nano-materials in their own right. These systems are formed by cyclic molecules with n phenyl units connected each other in their para-position, a configuration that resembles an ultra-short armchair single-wall carbon nanotube (SWCNT). In this Ph. D. Thesis we put forward a systematic study on the electronic properties of [n]CPPs, providing a thoroughly link between [n]CPPs, SWCNTs and their linear analogues ([n]LPPs). Curvature, strain and electronic π‒conjugation are the main characteristics of [n]CPPs that we will systematically study to examine their unexplored properties, and eventually their potential applications. In addition, we shall use [n]CPPs as models to realize the concept of radial cyclic electronic π‒conjugation, which has been only theoretically considered so far. Let us emphasize that we shall take advantage of the success of Raman spectroscopy for characterizing carbon-based materials. Raman spectroscopy is also among the most suitable tools to probe the electronic properties of such materials due to the high susceptibility of the π-electrons polarizability. In this Ph. D. Thesis we present a systematic study of a series of [n]CPPs considering all the geometrical parameters involved in their vibrational modes. We shall examine the influence of size on the Raman spectra of [n]CPPs, together with the effect of oxidation and mechanical compression on their molecular structures. Finally, we will explore the hosting capabilities of [n]CPPs as well as their mechanical properties relative to those of SWCNTs...
Esta tesis doctoral tiene como eje fundamental el análisis exhaustivo de diversas propiedades de los compuestos denominados [n]ciclo-parafenilenos (desde ahora [n]CPPs). Estas moléculas cíclicas están formadas por fenilenos unidos en posición para mediante enlaces sencillos. Como consecuencia de la configuración cíclica, los [n]CPPs poseen un alto grado de tensión interna, dado que sus unidades fenilénicas se ven forzadas a doblarse parcialmente para poder cerrar el ciclo. Asimismo, esta configuración fenilénica cíclica hace que los [n]CPPs se hayan considerado como la mínima unidad de nanotubos de carbono con quiralidad única de tipo armchair. El aspecto esencial de la tesis ha sido el estudio experimental y teórico de la espectroscopía Raman de los [n]CPPs, con un análisis de la dependencia de la misma con el tamaño, curvatura, tensión y conjugación electrónica. Por otro lado, también se ha estudiado la influencia de la temperatura, presión y la oxidación de los [n]CPPs en las variables espectroscópicas. Esto nos ha permitido explorar otras propiedades de los [n]CPPs como son: la conjugación electrónica, su deformabilidad y otras propiedades mecánicas, comparando el comportamiento observado en las mismas para los oligoparafenilenos lineales y los nanotubos de carbono. Por último, también se ha comprobado que los [n]CPPs y los nanotubos de carbono comparten propiedades relacionadas con su configuración tubular como son su habilidad para hospedar sistemas del tamaño apropiado...
Description
Tesis inédita de la Universidad Complutense de Madrid, Facultad de Ciencias Químicas, Departamento de Química Física I, leída el 15/04/2016. Tesis formato europeo (compendio de artículos)
Collections