Publication:
Prevención y tratamiento de intoxicaciones por n-acetilcisteína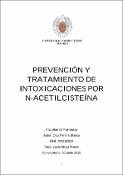 Authors
Advisors (or tutors)
Editors
Abstract
La N-acetilcisteína (NAC) es un fármaco utilizado como mucolítico y es considerado el antídoto de la intoxicación por paracetamol desde hace más de 40 años. La NAC tiene dos mecanismos por los que actúa principalmente: como precursor del glutatión y como captador de radicales libres. Además las investigaciones apuntan que tiene un efecto antiapoptótico y antiinflamatorio. Debido a sus mecanismos de acción, la NAC puede ser utilizada en otras patologías que están en investigación, además puede ser útil en un gran número de intoxicaciones y de efectos tóxicos que son los que se revisan en este estudio. Se revisaron los artículos publicados en los últimos cinco años para este fármaco, en los que se encontró numerosos estudios en los que la NAC resultó útil para prevenir o revertir los efectos tóxicos de distintos agentes químicos. Estos estudios utilizaron métodos y parámetros distintos, tomados en conjunto indican que la NAC tiene un potencial efecto antioxidante, capta los radicales libres generados en el estrés oxidativo. Muchos tóxicos inducen las vías de estrés oxidativo que causan daño celular y la disminución de las enzimas antioxidantes, por ello la NAC es útil para prevenir y tratar estos efectos, además previene del daño tras una segunda exposición aumentando las defensas antioxidantes. También hay estudios que indican que tiene un efecto quelante débil frente a metales pesados (plomo y cadmio), disminuyendo la concentración de estos en sangre y su acumulación en los órganos, mecanismos por los que puede ser útil en la toxicidad crónica. En algunos de los estudios revisados se indica que el mecanismo antiinflamatorio también contribuye a revertir los daños tóxicos. La conclusión es que la N-acetilcisteína es posiblemente un agente terapéutico eficaz y seguro en la prevención y el tratamiento de las intoxicaciones, sobre todo en aquellas que cursan con estrés oxidativo.
N-acetilcisteína (NAC) is traditionally used as mucolitic and is considered the acetominophen intoxication antidote for more than 40 years ago. However recent researchs highlight its antiapoptotic and antiinflamatory effect. NAC acts by two main mechanisms: as glutathione precursor and as freeradical scavenger. Such mechanisms encouraged recent studies for the use of NAC in other patologies as well as its utility in intoxications and toxic effects of different compounds. Here it is exposed a review of all share NAC articles published over the last five years. Many of then show an effective use of NAC in prevention and treatment of the toxic effects caused by different chemical compounds. Given that all this studies use different methods and parameters, we can confirm that NAC has an antioxidant potential effect as free radical scavenger generated by oxidative stress. Many toxics induce oxidative stress, that cause cell damage and decreased antioxidant enzymes, so the NAC is useful for preventing and treating these effects, and prevents further damage afterward second exposure because increases antioxidant defenses. There are also studies indicate that NAC have chelating efecto against heavy metals (lead and cadmium), decreasing concentration of these in blood and acumulation in organs, may be useful in chronic toxicity. Some of the studies reviewed indicated the antiinflamatory mechanism also helps reverse the toxic damage. Conclusion: the NAC is possibly an effective and safe therapeutic agent in prevention and treatment of intoxications, especially those occur with oxidative stress.