Publication:
Desarrollo de un sistema web para el análisis de datos en bioinformática utilizando técnicas de factorización positiva de matrices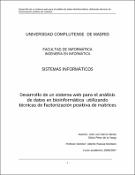 Advisors (or tutors)
Editors
Abstract
Este proyecto tiene como fundamento la integración de diversas tecnologías para construir una aplicación Web capaz de satisfacer las necesidades y requerimientos actuales en el campo del análisis de datos biológicos. La funcionalidad de la web será similar a la de la herramienta existente BioNMF, pero con las ventajas principales de que será accesible desde cualquier ordenador con acceso a la red Internet, sin necesidad de instalar ningún archivo ejecutable, y la mejora significativa en el tiempo de la obtención del resultado, gracias al procesamiento distribuido del análisis de los datos. Palabras clave: NMF, factorización no negativa de matrices, aplicación web, bioinformática, microchips de ADN, aplicación distribuida. [ABSTRACT] The aim of this project is to integrate diverse technologies to build a Web application able to satisfy the present necessities and requirements in the field of bioinformatics data analysis. The functionality of the web will be similar to the one of the existing tool BioNMF, but with the advantages that it will be accessible from any computer with access to the Internet, with no need to install a exe file, and the significant improvement in the time for obtaining the result, thanks to the distributed processing of the data analysis, distributed application. Key words: NMF, non negative matrix factorization, Web application, bioinformatics, DNA microchips.
Description
Trabajo de la asigatura Sistemas Informáticos (Facultad de Informática, Curso 2006-2007)
Collections