Publication:
El discurso de Iván Duque sobre el Acuerdo Final en el escenario internacional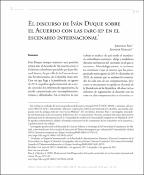 Advisors (or tutors)
Editors
Publisher
Universidad Externado de Colombia
Abstract
Iván Duque siempre mantuvo una posición crítica ante el Acuerdo de Paz suscrito entre el Gobierno colombiano presidido por Juan Manuel Santos y la guerrilla de las Fuerzas Armadas Revolucionarias de Colombia (FARC-EP). Una vez que llega a la presidencia, en agosto de 2018, su política gubernamental, de acuerdo con todos los informes de seguimiento, ha estado caracterizada por incumplimientos, retrasos y dificultades. Así, el objetivo de este trabajo es analizar de qué modo el mandatario colombiano construye, dirige y modula su discurso en función del escenario en el que se encuentra. Metodológicamente, se revisaron los veintisiete viajes al exterior que ha protagonizado entre agosto de 2018 y diciembre de 2020, de manera que se analizan los contenidos de cada una de sus comparecencias, tal y como se encuentran recogidas en el portal de la Presidencia de la República. Al observar los informes de seguimiento al Acuerdo con las FARC-EP y las comparecencias en el exterior, este trabajo explora y analiza las contradicciones reales entre el proceso efectivo de implementación y el discurso político que se proyecta. El resultado más relevante tendrá que ver con el marcado contraste existente entre la situación precaria del Acuerdo de Paz y un discurso en el que aspectos como la reincorporación, la noción de paz con legalidad o la reducción de los cultivos ilícitos aparecen como las prioridades más destacadas en sus intervenciones fuera del país.
Iván Duque always maintained a critical position towards the Peace Agreement signed between the Colombian Government chaired by Juan Manuel Santos and the FARC-EP guerrilla. Once he became president in August 2018, his government policy, according to all follow-up reports, has been characterized by breaches, delays and difficulties. Thus, the objective of this work is to analyse how the Colombian president constructs, directs and modulates his discourse depending on the scenario. Methodologically, this work reviews the twenty-seven trips that he has carried out abroad between August 2018 and December 2020. Thus, the contents of each of his appearances are analysed, as they are found in the website of the Presidency of the Republic. Observing the follow-up reports to the Agreement with the FARC-EP and the appearances abroad, this work analyses the real contradictions between the actual implementation process and the political discourse that is projected. The most relevant result will have to do with the marked contrast between the precarious situation of the Peace Agreement and a discourse in which reincorporation, the notion of peace with legality or the reduction of illicit crops are the most prominent priorities in their interventions outside the country.
Collections