Publication:
De vertical a horizontal. De la comunicación de masas a la comunicación masiva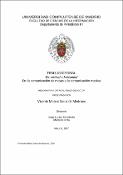 Files
Authors
Advisors (or tutors)
Editors
Publisher
Universidad Complutense de Madrid
Abstract
De Vertical a Horizontal. De la comunicación de masas a la comunicación masiva", versa sobre el cambio del modelo comunicativo a partir de crecimiento exponencial en el uso de las tecnologías digitales, por mor de la impronta ("marca o huella que, en el orden moral, deja una cosa en otra", RAE) de cambio que éstas incorporan en interacción con los usuarios. Impronta de cambio que amplía el límite de lo posible en el hacer humano ––––comunicativo en el análisis de esta tesis––, en el momento presente y respecto de la tecnología anterior: analógica. Desde esta óptica la investigación que se propone parte, necesariamente, de una reflexión teórica sobre el sentido y el papel que juega lo técnico en la vida de las personas. En la descripción de cómo cada vez que una nueva técnica o tecnología ha propiciado un modo nuevo de comunicar entre las personas, la impronta de cambio de esa interacción entre personas y el nuevo "hecho técnico", ha producido un reequilibrio en la percepción sensorial de la realidad: de lo externo. Un reequilibrio que nutre la gestación e implantación de un orden social nuevo, por distinto al anterior, ya que el avance de lo técnico ni se ha detenido ni se va a detener dado su carácter irreversible. En éste sentido, la tesis propone el concepto de "hecho técnico" como categoría teórica que puede permitir un encaje más preciso y ajustado a la evolución histórica, con respecto a los conceptos de técnica, tecnología, "tecnociencia" o "psicotecnologías"...
From horizontal to vertical. From mass to massive communication" treats the change of the communicative model since the arising of the use of digital technologies. Change that amplifies the limits of possibilities –communicative possibilities in the analysis of this thesis-, in the present time and regarding the previous technology: analogic From this point of view, the purposed investigation, starts, necessarily, in a theoretical reflexion about the role that technologies play in the lives of people and its influence.Each time a new technology has propitiated a new way of communication between people, a new rebalance of perception of reality – the outside- has been made, creating this way the implantation of a new social order, different to the previous one, because technical advances have not and are never going to stop because of its irreversible character. This thesis purposes the concept of "Technical fact" as a theoretical category that can allow a more precise and detailed definition, adjusted to the historical evolution regarding the concepts of technique, techno-science or psycho-technologies. Concept that can be useful, as placing the technology as inherent to humans –further from the object of expression in which it manifests each time-, I believe it allows and favours a more adjusted theoretical documentation and categorization of the technical changes among history and the alteration they have produced in the "human doing" in each historical time. This is what the reader will find in chapters 1 and 2, while chapters 4 and 5, develop the idea of how each time a new technology has come to light –expressed by the technical media- it has supposed a new and progressive amplification of people's capacity of accessing information and knowledge, as well as an amplification of the framework and an acceleration of the speed and circulation of information. Process, historically irreversible, that alters the schemes of organization and power distribution in societies as it resizes the capacities of influence and participation of people. Capacities that have been enhanced -to unknown limits- for the immense majority of new media users, who represent a mere shackle in a process that, in a few years, will be overwhelmed with a new "technical fact": quantum technology...
Description
Tesis inédita de la Universidad Complutense de Madrid, Facultad de Ciencias de la Información, Departamento de Periodismo III, leída el 09-02-2016
Collections