Publication:
The influence of Science and Technology Park characteristics on firms' innovation results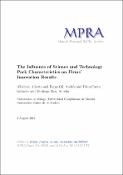 Advisors (or tutors)
Editors
Publisher
Munich University Library
Abstract
The effectiveness of Science and Technology Parks (STPs) as instruments of innovation policy has generated thriving debate among academics, practitioners and policy makers. However, research mostly does not consider STPs' heterogeneity. The present paper analyses the influence of different STP characteristics on their tenants' performance. Using data on 849 firms and 25 STPs from the 2009 Community Innovation Survey for Spain and a survey of STP managers respectively, we find that: (i) firms located in very new or longer established STPs show better innovative performance; (ii) the size of the STP and its management company positively affects the innovative performance of tenants while services provision has no effect on firms' achieving better results; and (iii) firms in less technologically developed regions benefit more from location in an STP.
Description
Publicado también como artículo: Alberto Albahari & Andrés Barge‐Gil & Salvador Pérez‐Canto & Aurelia Modrego, 2018. "The influence of science and technology park characteristics on firms' innovation results," Papers in Regional Science, Wiley Blackwell, vol. 97(2), pages 253-279, June.