Publication:
Genome-wide data from the Bubi of Bioko Island clarifies the Atlantic fringe of the Bantu dispersal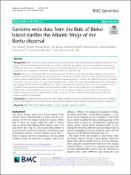 Advisors (or tutors)
Editors
Abstract
Background: Bioko is one of the few islands that exist around Africa, the most genetically diverse continent on the planet. The native Bantu-speaking inhabitants of Bioko, the Bubi, are believed to have colonized the island about 2000 years ago. Here, we sequenced the genome of thirteen Bubi individuals at high coverage and analysed their sequences in comparison to mainland populations from the Gulf of Guinea. Results: We found that, genetically, the closest mainland population to the Bubi are Bantu-speaking groups from Angola instead the geographically closer groups from Cameroon. The Bubi possess a lower proportion of rainforest hunter-gatherer (RHG) ancestry than most other Bantu-speaking groups. However, their RHG component most likely came from the same source and could have reached them by gene flow from the mainland after island settlement. By studying identity by descent (IBD) genomic blocks and runs of homozygosity (ROHs), we found evidence for a significant level of genetic isolation among the Bubi, isolation that can be attributed to the island effect. Additionally, as this population is known to have one of the highest malaria incidence rates in the world we analysed their genome for malaria-resistant alleles. However, we were unable to detect any specific selective sweeps related to this disease. Conclusions: By describing their dispersal to the Atlantic islands, the genomic characterization of the Bubi contributes to the understanding of the margins of the massive Bantu migration that shaped all Sub-Saharan African populations
África constituye para los Antropólogos Físicos un punto de referencia que adquiere más valor, si cabe, gracias al desarrollo de nuevas tecnologías de genotipado. Las preguntas científicas que se pueden plantear desde una perspectiva biológica son, a día de hoy, prácticamente ilimitadas. En este trabajo se planteó el estudio de una población africana excepcionalmente interesante, los Bubis, procedentes de la isla de Bioko (Guinea Ecuatorial). Su singularidad radica fundamentalmente en tres aspectos. Por un lado, se trata de un pueblo autóctono de una de las pocas islas que existen en torno al continente, por lo que su estudio aportará información sobre efecto que la insularidad ha tenido en las poblaciones humanas. Por otra parte se desconoce el origen y la dinámica demográfica de esta población. Por último, los bubis han sobrevivido en una de las áreas con mayor incidencia de malaria del mundo, por lo que cabría detectar señales de presión selectiva en la biología de esta población. Se secuenciaron 13 genomas completos a alta cobertura de población bubi y se obtuvieron los siguientes resultados. Las poblaciones continentales más cercanas a los bubis son grupos de habla bantú procedentes de Angola, en lugar de los grupos geográficamente más cercanos, como las poblaciones procedentes de Camerún. Se detectaron evidencias significativas de aislamiento atribuible al efecto de la insularidad. Se pudo determinar que el poblamiento de la isla se realizó hace unos 3.500 y que se ha producido flujo genético constante, aunque de baja intensidad, desde el continente a lo largo de los últimos milenios. No se pudo detectar ninguna evidencia de barrido selectivo específico en el genoma de los bubis relacionado con la malaria.
Collections