Publication:
La nulidad de la cláusula suelo por falta de transparencia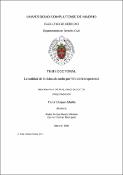 Files
Authors
Advisors (or tutors)
Editors
Publisher
Universidad Complutense de Madrid
Abstract
El presente trabajo ofrece un estudio sobre la cláusula suelo en los contratos de préstamo hipotecario, así como un examen de la problemática que suscita el aspecto de su fiscalización y los efectos de la declaración del carácter abusivo de esta cláusula. Con el fin de abordar el análisis de la cláusula suelo como estipulación que opera en el contrato de préstamo hipotecario, el capítulo primero de esta obra trata, por una parte, de los aspectos más generales de la cláusula suelo, como el concepto y la finalidad, y, por otra parte, de la regulación que le han otorgado los diversos textos normativos actualmente en vigor. La naturaleza jurídica de la cláusula suelo es objeto de examen en el capítulo segundo del trabajo. Para ello, se hace especial hincapié no sólo en el requisito de la imposición, en tanto elemento que justifica la aplicación de la normativa referente a las condiciones generales de la contratación y las cláusulas no negociadas individualmente, sino también en la figura del préstamo hipotecario y el interés remuneratorio, dada su relación con la cláusula suelo. En este segundo capítulo, se aborda, asimismo, el estudio del carácter esencial de la cláusula suelo en el contrato de préstamo hipotecario, así como su licitud. Cabe destacar que el estudio de la cláusula suelo lo que en realidad presupone no es tanto el examen de una estipulación actual y controvertida, sino más bien del control de transparencia, es decir, de su fiscalización, pues la adecuada implantación y evolución en nuestro ordenamiento jurídico de dicho control ha tenido lugar a través de esta cláusula. Así pues, el leitmotiv de la obra es la transparencia, principio que, si bien inspira todo el trabajo, alcanza su punto álgido de desarrollo en los capítulos tercero y cuarto...
The present work offers a study on floor clause in mortgage loan contracts, as well as an examination of the problematic that provokes the aspect of its control and the effects of declaration of abusive character of this clause. In order to tackle the analysis of floor clause as a stipulation that operates in mortgage loan agreement, the first chapter of this book deals, on the one hand, with more general aspects of floor clause, such as concept and purpose, and, on the other hand, with regulation that has been granted by the various normative texts currently in force. Legal nature of floor clause is discussed in the second chapter of the book. To this end, special emphasis is placed not only on requirement of imposition, as an element that justifies the application of general contractual terms and clauses not individually negotiated, but also on mortgage loan and remunerative interest, owing to its relation with floor clause. In this second chapter, it is also tackled the study of essential character of floor clause in mortgage loan contract, as well as its legality. It should be noted that the study of floor clause what it actually presupposes is not so much the examination of a current and controversial stipulation, but rather of transparency control, because the proper implementation and evolution in our system of this control has taken place through this clause. Thus, leitmotiv of this work is transparency, a principle that, while inspiring all work, reaches its peak of development in chapters three and four. Specifically, chapter three deals with lack of transposition of transparency control contained in art. 4.2 of Directive 93/13/CEE, as well as exegesis of such control and its proper implementation by the Supreme Court in our legal system...
Description
Tesis inédita de la Universidad Complutense de Madrid, Facultad de Derecho, Departamento de Derecho Civil, leída el 28/06/2017
Collections