Publication:
Análisis de la presencia de las multilatinas en el espacio económico del grupo de Visegrád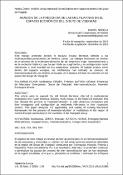 Authors
Advisors (or tutors)
Editors
Publisher
Instituto Complutense de Estudios Internacionales (ICEI)
Abstract
Este trabajo pretende ampliar la todavía escasa literatura referida a las multinacionales procedentes de América Latina. Los trabajos existentes se centran en el proceso de la multinacionalización de las empresas origen latinoamericano y en la evolución histórica que ha permitido su surgimiento y su configuración como referencias a nivel mundial en sus respectivos sectores. El trabajo analiza cómo dentro del espacio europeo, las multilatinas han validado su proceso de internacionalización con destino al espacio de la Europa Central; en concreto en los países del Grupo de Visegrád.
This article aims to expand the still limited literature referred to multinational enterprises from Latin America. Existing works focus on the historical evolution that has allowed the process of multinationalisation of Latin-American companies and their emergence and configuration as worldwide references in their respective sectors. This paper analyzes the applicability and validity of existing theoretical frameworks for the process of internationalization of multilatinas in the region of Central Europe; particularly in the countries of the Visegrád Group.
Citation
Alonso, F. y Revuelta, J. (2013). "Presencia De Multilatinas En Europa. Tipología y Estrategia Empresarial." Amin, S. (1988). La Desconexión: Hacia Un Sistema Mundial Policéntrico. IEPALA Editorial. Casanova, L. (2011ª). "El Ascenso De Las Multilatinas En La Economía Mundial." Información Comercial Española, ICE: Revista de economía, (859), 21-31. Casanova, L. (2011b). "La Década Dorada Latinoamericana: Las" Global Latinas" Llegan a Occidente." Economía exterior: estudios de la revista Política Exterior sobre la internacionalización de la economía española, (59), 85-91. Casanova, L. (2010). "Las Multinacionales Latinoamericanas En Los Albores De Una Gran Oportunidad." Revista de Administração de Empresas, 50, 439-45. Casanova, L. et al. (2009). "Multilatinas to Global Latinas: The New Latin American Multinationals." Casanova, L. y Rodríguez-Montemayor, E. (2014). "The Bridge Model: How Spanish Multinationals Are Building Economic Ties between Asia and Latin America." Business and Politics, 16(3), 373-91. Cuervo-Cazurra, Á. (2008). "The Multinationalization of Developing Country Mnes: The Case of Multilatinas." Journal of international Management, 14(2), 138-54. Cuervo-Cazurra, Á. 2010. "Multilatinas." Universia business review, (25), 14-33. Cuervo-Cazurra, Á. y Stal, E. (2011). "The Investment Development Path and Fdi from Developing Countries: The Role of Pro-Market Reforms and Institutional Voids." Latin American Business Review, 12(3), 209-31. Dunning, J. H. (1994). "Re-Evaluating the Benefits of Foreign Direct Investment." Transnational corporations, 3(1), 23-51. Dunning, J. H. (1999). "Trade, Location of Economic Activity and the Multinational Enterprise: A Search for an Eclectic Approach." PJ Buckley & P. Ghauri. The internationalization of the firm, 61-79. Fleury, A. (2010). "El Camino Se Hace Al Andar: La Trayectoria De Las Multinacionales Brasileñas." Universia Business Review, (25), 34-55. Frot, E. y Santiso, J. (2013). "Political Uncertainty and Portfolio Managers in Emerging Economies." Review of International Political Economy, 20(1), 26-51. Furtado, C. (1974). Teoría y Política Del Desarrollo Económico. Siglo xxi. Goldstein, A. 1995. "Embraer: From National Champion to Global Player." Financial Times. Fleury, A et al. (2013). "Differences in Outsourcing Strategies between Firms in Emerging and in Developed Markets." International Journal of Operations & Production Management, 33(3), 296-321. Johanson, J. y Vahlne, J. E. (1977). "The Internationalization Process of the Firm-a Model of Knowledge Development and Increasing Foreign Market Commitments." Journal of international business studies, 23-32. Lessard, D. R. y Reavis, C. (2007). "Globalization 'the Cemex Way,'" MIT Sloan School case. Lucas, R. E. (1990). "Why Doesn't Capital Flow from Rich to Poor Countries?" The American Economic Review, 92-96. Nurkse, R. (1952). "Some International Aspects of the Problem of Economic Development." The American economic review, 571-83. Prebisch, R. (1964). Nueva Política Comercial Para El Desarrollo. Fondo de cultura económica Mexico City. Price Waterhouse Coopers (PwC). (2014). "Top 100 Aerospace Companies." Rivera, R. y Ruelas-Gossi, A. (2007). "Las Multilatinas. Multinacionales Del Nuevo Mundo." Foreign affairs en español, 7(4), 83+-83+. Rugman, A. M. (2010). "Do We Need a New Theory to Explain Emerging Market Multinationals." Foreign Direct Investment from Emerging Markets: The Challenges Ahead. Rugman, A. M. (1981). Inside the Multinationals: The Economics of Internal Markets. Columbia University Press New York. Santiso, J. (2013). The Decade of the Multilatinas. Cambridge University Press. Santiso, J. 2011. "Los Nuevos Argonautas Latinos." Economía exterior: estudios de la revista Política Exterior sobre la internacionalización de la economía española, (59), 101-08. Towers Watson. (2010). "Multilatinas Human Capital: Practices Survey." Towers Watson. 2013. "Multilatinas Poised for Growth: Seizing Opportunities in the Global Landscape."
Collections