Publication:
Análisis comparativo de los resultados en función del tipo de tutorización intraductal pancreática en la duodenopancreatectomía cefálica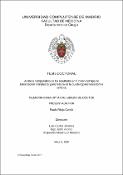 Files
Authors
Advisors (or tutors)
Editors
Publisher
Universidad Complutense de Madrid
Abstract
La técnica de la duodenopancreatectomía cefálica (DPC) ha sufrido numerosas modificaciones desde las primeras publicaciones de W. Kausch y A. Whipple, sobre todo en lo que a la reconstrucción pancreática se concierne. R. Varco en 1945, introdujo la idea de introducir un tubo a través del conducto de Wirsung con el objetivo de mantener su permeabilidad y tutorizar el líquido pancreático, mediante su drenaje al intestino o al exterior. La adaptación ducto-mucosa y la colocación temporal de tutores intraductales durante la reconstrucción pancreato-yeyunal, parecen disminuir en algunos casos el riesgo de fístula pancreática (FP), sobre todo en aquellos casos con calibre intraductal estrecho o menor de 3 mm. Según la literatura la frecuencia de FP tras la DPC varía del 3 al 20%, aunque dicho rango de variación también está relacionado con los diferentes criterios para la definición de fístula pancreática. Hasta el momento no existe consenso sobre el tipo de anastomosis pancreática idónea para evitar dicha complicación. Existen ocho estudios randomizados sobre la tutorización pancreática, con algunas diferencias en cuanto a la incidencia de FP en aquellos en los que se comparan los resultados de tutor externo frente a no tutor, siendo menor en los grupos con tutor externo (Tabla 1). Sin embargo, estos estudios son heterogéneos, de pequeño tamaño y en ninguno de ellos se realiza la triple comparación entre tutor externo, no tutor y tutor interno...
The technique of pancreaticoduodenectomy (PD) has undergone many changes since the first publications of W. Kausch and A. Whipple, especially as far as pancreatic reconstruction is concerned. R. Varco in 1945, introduced the idea of introducing a stent through the pancreatic duct in order to maintain patency and control of pancreatic fluid, by draining to the intestine. The duct-mucosa adaptation and temporary placement of an intraductal stent during pancreato-jejunal reconstruction, appear in some cases to decrease the risk of pancreatic fistula, especially in cases with a narrow Wirsung duct with a size less than 3 mm. According to the literature the frequency of PF after the PD varies from 3 to 20%, although this range of variation is also related to the different criteria for the definition of pancreatic fistula. So far there is no consensus on the ideal type of pancreatic anastomosis to avoid this complication. There are eight randomized studies about pancreatic stenting, with some differences in the incidence of PF in those where external stenting results are compared with no stenting, being lower in the groups with external stents (Table 1). However, these studies are heterogeneous, small and none of them perform a triple comparison between external stenting, no stenting and internal stenting...
Description
Tesis inédita de la Universidad Complutense de Madrid, Facultad de Medicina, Departamento de Cirugía, leída el 29-03-2017
Collections