Publication:
Ventilación no invasiva en la insuficiencia respiratoria aguda en urgencias: aplicabilidad y pronóstico a medio plazo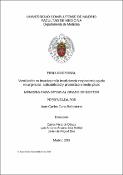 Files
Advisors (or tutors)
Editors
Publisher
Universidad Complutense de Madrid
Abstract
La ventilación mecánica no invasiva (VMNI) es un método contrastado de soporte respiratorio. En este estudio se plantea que la VMNI aplicada de forma precoz por los médicos del Servicio de Urgencias de un hospital terciario, mejora el manejo terapéutico y con ello el pronóstico de los pacientes con insuficiencia respiratoria aguda (IRA).Objetivo. Estudiar la aplicabilidad de soporte respiratorio con ventilación mecánica no invasiva (VMNI) en los servicios de urgencias hospitalarios (SUH), mediante los análisis de una serie consecutiva de pacientes con insuficiencia respiratoria aguda (IRA) atendidos en el área de alta dependencia (ADA) del SUH del Hospital General Universitario Gregorio Marañón (HGUGM). Analizar los resultados asistenciales y estimar el pronóstico de estos pacientes, mediante el registro y el análisis de la supervivencia un año después de recibir asistencia en la unidad y la necesidad de reingresos hospitalarios en este período.Material y métodos. Estudio unicéntrico, observacional, prospectivo y de seguimiento durante 1 año, de una serie de 112 pacientes tratados con VMNI. Se recogieron y analizaron variables epidemiológicas, clínicas, analíticas, del método ventilatorio, estancia y destino al alta desde la unidad. Se realizó un seguimiento a los supervivientes de la hospitalización inicial con registro de los reingresos y los fallecimientos...
Non-invasive mechanical ventilation (NIMV) is a proven method of respiratory support. Does the NIMV applied at an early stage by the doctors of the Emergency Service of a tertiary hospital improves the therapeutic management and thus the prognosis of the patients with ARI?Objective. To study the applicability of respiratory support with noninvasive mechanical ventilation (NIMV) in hospital emergency services (HES), by analyzing a consecutive series of patients with acute respiratory failure (ARF) treated in the high dependency area (HDA) (HGUGM), analyze the results of care and estimate the prognosis of these patients, by recording and analyzing survival one year after receiving assistance in the unit and the need for hospital readmissions in this unit period.Material and methods. A single-center, observational, prospective and follow-up study for a year of a series of 112 patients treated with NIMV. Epidemiological, clinical, analytical variables of the ventilatory method, hospitalization and later destination were collected and analyzed from the unit. Survivors of the initial hospitalization were followed up with records of readmissions and deaths...
Description
Tesis de la Universidad Complutense de Madrid, Facultad de Medicina, Departamento de Medicina, leída el 18-04-2018
Collections