Publication:
Para una historia de la voz escénica en España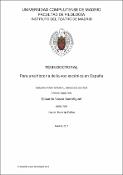 Files
Authors
Advisors (or tutors)
Editors
Publisher
Universidad Complutense de Madrid
Abstract
La historia de las grabaciones de fragmentos de obras teatrales, recitadas por los grandes actores, en el primer tercio del siglo XX y que fueron editadas en cilindros fonográficos y discos de 78 revoluciones por minuto, no ha sido estudiada nunca. Desde los ámbitos académicos no se ha conocido jamás este material ni tampoco se ha tenido en cuenta en los profesionales. Tras décadas de reflexiones sobre cómo se debe recitar el verso castellano del Siglo de Oro, resulta sorprendente que estos documentos sonoros que voy a presentar y estudiar no se tuvieran en cuenta como base de los múltiples debates que se han producido. Sólo podemos encontrar una explicación: nadie conocía su existencia. Este es el motivo que generó mi investigación. El interés en estas grabaciones, si bien comenzó como coleccionista derivó rápidamente —consciente de su importancia— en la necesidad estudiarlas. Al encontrarme un disco en el que el actor Francisco Morano recitaba las décimas de Segismundo de La vida es sueño, de Calderón de la Barca por una cara; y Ricardo Calvo el poema Amores de Avenzaiden por la otra me di cuenta de que había encontrado un eslabón perdido entre las maneras románticas de recitado y nuestras formas de decir el verso en la actualidad. Mi dedicación a los clásicos durante toda mi carrera estimuló mi interés y comencé a reunir todo el material que pude sobre estas grabaciones y sus autores. Lo que encontré: catálogos, libros, programas de mano, etc., constituye el corpus fundamental del trabajo que aquí presento. Este material no estaba completo en ninguna arte, no era posible hallarlo reunido en museos o archivos; en su mayor parte se encontraba diseminado en colecciones particulares. Las dos compañías que se dedicaron a la producción y distribución de estos discos, Odeon y Discos Gramófono-La voz de su amo, desaparecieron y sus archivos no fueron conservados, así que tampoco por esa vía era posible encontrar la información. Sólo los coleccionistas privados podían suministrarme tanto las grabaciones como la información necesaria para catalogarlas e investigarlas con un propósito académico...
The history of the fragments of the recordings of plays, recited by great actors in the first third of the XX century in phonograph cylinders and 78 r.p.m. records, has never been studied before, it́s completely unknown for the academic as well as for the theatre professionals. After decades of reflections in how to proceed to the verse saying in the Spanish Golden Age verse and musings about the lost tradition in recitation, it is surprising that all the sound documents that we are going to study, have been forgotten and out of all discussions. I can only find one explanation to this, nobody knew about its existence. So this was the origin of my research. My interest in those recordings, started as a collector, antique books, hand programmes, contracts, costume and stage sketches, posters and all I can find. The desire to reconstruct the history of my profession, took me to realize that I wanted that all I work for, has a meaning beyond the present. One day I found a 78 r.p.m. recording containing La Vida es Sueño, recorded by Francisco Morano on one side, and the poem Amores de Avenzaiden by Ricardo Calvo on the other. I started to research, and realized that the records contained fragments of theatre plays recorded by the main actors of the beginning of the XX century, reciting parts of the most important Spanish and international repertoire, although I knew about those actors, I had no idea such recordings existed. That was the beginning of my research. My commitment to the classics (classic theatre) throughout my career, stimulated my interest, and I began to gather all the material I could about these recordings. What I found, more records, publications, catalogues, etc., form the main corpus of my study. I found out that all this material was not gathered in libraries or museums, it was scattered around and some hade even disappeared, so this made it very difficult to find and to study. The most important music companies that had produced these records, Odeon and discos Gramofono-La Voz de su amo, had closed down and its archives have not been fully conserved anywhere. Only private collectors had gathered information about the 78 r.p.m. records and phonograph cylinders. So I started to collect myself for an academic purpose...
Description
Tesis inédita de la Universidad Complutense de Madrid, Facultad de Filología, leída el 23/09/2016
Collections