Publication:
Nonlinear model of c-number confined Dirac quarks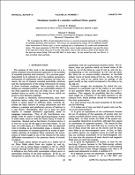 Authors
Advisors (or tutors)
Editors
Publisher
American Physical Society
Abstract
We investigate the effect of spin-dependent forces in a recently proposed approach to the problem of extended particles with structure. The forces are introduced by means of two different fourthorder interactions of Fermi type, a vector coupling and a combination of a scalar and pseudoscalar terms. The mass parameter is 286 (393) MeV in the vector (scalar-pseudoscalar) case and the mass of the spin-zero meson turns out to be 582 (552) MeV, close to that of the g, those of the baryon and the spin-one meson being 1200 and 800 MeV in both cases. As the model has only one flavor, it does not allow other particles.
Description
© 1984 The American Physical Society. We are very grateful to Dr. L. García for help in the coinputing process. This work is part of a program partially supported by CAICYT (Coinision Asesora de Investigacion Cientifica y Tecnica) and Institute de Estudios Nucleares of Madrid.
Citation
1.- A.F. Rañada and M.F. Rañada, Physica D (to be published). 2.- R. Finkelstein, R. Lelevier, and M. Ruderman, Phys. Rev. 83, 3261 (1951). 3.- M. Soler, Phys. Rev. D 1, 2766 (1970). 4.- R. Finkelstein, C. Fronsdal, and P. Kaus, Phys. Rev. 103, 1571 (1956). 5.- A.F. Rañada, Int. J. Theor. Phys. 16, 795 (1977). 6.- A.F. Rañada, J. Phys. A 11, 341 (1978). 7.- H. Weyl, Phys. Rev. 77, 699 (1950). 8.- N. Rosen and H. Rosenstock, Phys. Rev. 85, 257 (1952). 9.- M. Soler, Zaragoza Report No. GIFT 10-75, 1975 (unpublished). 1O.- A. Álvarez and B. Carreras, Phys. Lett. 86A, 327 (1981). 11.- A. Álvarez and M. Soler, Phys. Rev. Lett. 50, 1230 (1983). 12.- D.T. Anderson and G. H. Derrick, J. Math. Phys. 11, 1336 (1971).
Collections