Publication:
Responsabilidad de administradores de sociedades en crisis en EEUU (Directors' liability in a crisis context in American law)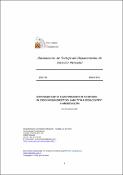 Authors
Advisors (or tutors)
Editors
Abstract
En Derecho estadounidense es doctrina mayoritaria que siendo la sociedad solvente los administradores tienen deberes fiduciarios de diligencia y lealtad hacia la sociedad y los socios, cumpliéndose el interés social a través de la maximización del valor de los accionistas a medio-largo plazo. Sin embargo, la cuestión se complica al estudiar si modifica el contenido del interés social cuando la sociedad afronta un periodo de crisis empresarial, cuestión de la que la Jurisprudencia estadounidense, especialmente la de Delaware, se viene ocupando hace tiempo a través del desarrollo de la doctrina del trust fund, y que se estudia en este trabajo. ABSTRACT: Most of American doctrine considers that solvent companies' directors have fiduciary duties of care and loyalty to the company and partners, fulfilling the best interest of the corporation through the shareholders value in a medium-long term. However, this principle becomes more complicated if we consider that corporation interest changes when the company faces a period of financial crisis. This issue, analyzed in this work, has been studied by American Courts, particularly in Delaware, developing the trust fund doctrine
Description
Texto de la ponencia presentada en el IX Seminario Harvard-Complutense View on Corporate and Financial Law Issues, celebrado en la Harvard Law School entre los días 7 y 11 de noviembre de 2011, con el patrocinio de Allen & Overy (Madrid), Banco Santander, J & A Garrigues, S.L.P, Ilustre Colegio Notarial de Madrid y Colegio de Registradores de España.