Publication:
Aproximación a un nomenclátor de escritores hispanoamericanos del siglo XIX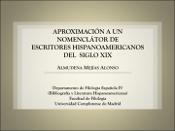 Authors
Advisors (or tutors)
Editors
Abstract
Relación alfabética de escritores hispanoamericanos nacidos a lo largo del siglo XIX en la que se reflejan los datos de su nacionalidad, fechas de nacimiento y muerte, pseudónimo utilizado (en su caso)y fuentes de las que se ha extraído la información.
We present an alphabetic list of Hispanic American writers born in XIX Century. We include the information on nationality, birth and death dates, pen name (if any), and sources of the data.