Publication:
Analizador de manos de NLHE siguiendo estrategias configurables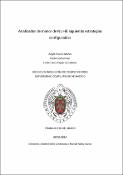 Advisors (or tutors)
Editors
Abstract
En esta memoria se describe el Trabajo de Fin de Grado "Analizador de manos de NLHE siguiendo estrategias configurables", que consiste en la creación de una herramienta que ayude a jugadores de "Texas hold'em" póker en la modalidad "cash" en mesas de seis jugadores a analizar sus jugadas una vez terminada la partida. Estas jugadas se analizan en función de unas estrategias creadas por la escuela de póker online EducaPoker1. Los usuarios de la aplicación podrán introducir archivos con los registros de sus manos y comprobar si han jugado siguiendo la estrategia, o si por el contrario han cometido algún error. En caso de haberlo cometido se mostrará el punto de la partida en el que se ha producido, y se verá también el movimiento que deberían haber efectuado para seguir la estrategia correctamente. Como los jugadores pueden no querer adaptar exactamente su juego a las estrategias predefinidas, la aplicación ofrece la opción al usuario de crear las suyas propias, modificando las estrategias básicas de EducaPoker. Como parte de este Trabajo de Fin de Grado, también se ha creado un sitio Web2 para que los usuarios puedan conocer la aplicación. En ella se explica su funcionamiento, los cambios efectuados en las distintas versiones, y cómo descargarla y ejecutarla. Además, la Web ha sido creada para hacer un seguimiento del uso de la aplicación.
In this memory, we describe our project, which consists in a tool that helps poker players to analyze their moves once the game is ended. These moves are analyzed following some strategies created by the online poker school "EducaPoker3". The users of this application can load files with their hand logs in order to check if they have played by following a strategy. Also this application checks if users have made any mistake, seeing exactly the point of the game where they played wrong, and also seeing which action they should have done. Due to players may not want to adapt their playstyle to the provided strategies, the application gives the user the choice to create new strategies by modifying the basic strategies of EducaPoker. Also as part of this project, we have created a website4 in order to show our application to the users. In this website, we explain how it works, we show the changelog, and we explain how to download and run it. The website also helps us to track the use of the application.
Description
Trabajo de Fin de Grado en Ingeniería de Computadores (Universidad Complutense, Facultad de Informática, curso 2013/2014)