Publication:
Implementación de gramáticas evolutivas sobre GPUs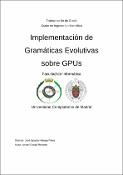 Files
Authors
Advisors (or tutors)
Editors
Abstract
En el presente trabajo se ha realizado la implementación y análisis de resultados de la ejecución de un algoritmo que utiliza gramáticas evolutivas sobre una tarjeta de procesamiento gráfico o GPU, y su comparación con una implementación equivalente sobre CPU. El problema sobre el que se ha aplicado es el conocido como de regresión simbólica, que consiste en obtener una expresión matemática de la forma y=f(x) a partir de un conjunto de pares x/y. Adicionalmente se ha diseñado una implementación de una gramática para resolver un problema de identificación de perfiles de glucosa en pacientes diabéticos para mostrar una posible aplicación.
This work presents the implementation of an algorithm based on Grammatical Evolution under a GPU architecture. We made an analysis of the results in terms of execution time and quality. We compare to an equivalent implementation on a CPU. The benchmark of application is the symbolic regression problem, which consists on obtaining a mathematical expression in the form y=f(x) from a set of pairs x/y. We also present an implementation of a grammar for the identification of glucose profiles in diabetic patients as an application case.
Description
Trabajo de Fin de Grado en Ingeniería Informática (Universidad Complutense, Facultad de Informática, curso 2015/2016)