Publication:
Ortogneises y metasedimentos de la formación infrabasal al Ollo de Sapo (Macizo de Hiendelaencina, Guadarrama Oriental)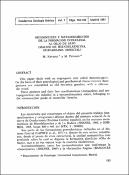 Advisors (or tutors)
Editors
Publisher
Servicio de Publicaciones de la Universidad Complutense de Madrid
Abstract
This paper deals with an augengneis unit called Antonita-gneis. On the basis of their petrological and geochemical characteristies these gneisses are considered as old two-mica granites, with a silicosodic trend. These gneisses and their late manifestations (metaaplites and metapegmatites are induded in a metasedimentary series, belonging to the metamorphic grade of staurolite - kyanite.
Collections