Publication:
La construcción de la Ciudad Universitaria de Madrid en la colección fotográfica de la Biblioteca Histórica "Marqués de Valdecilla"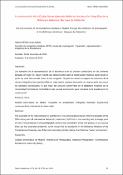 Authors
Advisors (or tutors)
Editors
Publisher
Biblioteca Histórica U.C.M.
Abstract
Los ejemplos de la representación de la arquitectura en su proceso constructivo en las primeras décadas del siglo XX, siguen siendo aún desconocidos para la construcción histórica, tanto desde el punto de vista documental como de las imágenes. Si para los acasos europeos la presencia de la cámara fotográfica fue imprescindible en cada nuevo proyecto levantado, en nuestro país son pocos los ejemplos conservados, lo que hace del conjunto conservado en la Biblioteca Histórica de la Universidad Complutense de Madrid uno de los más interesantes para la historia de la arquitectura "en construcción".
The examples of the representation of architecture in its construction process in the first decades of the 20th century are still unknown for historical construction, both from a documentary and an image point of view. If the presence of the photographic camera was essential in every new project, in our country there are few examples preserved, which makes the set preserved in the Biblioteca Histórica of the Complutense University one of the most interesting for the history of architecture "under construction".
Collections