Publication:
Los Modelos Matemáticos de la Mecánica Cuántica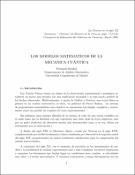 Authors
Advisors (or tutors)
Editors
Publisher
Dirección General de Ordenacion e Innovación Educativa,
Citation
J. DIEUDONNE, History of Functional Analysis. North Holland Math. Studies 49. North-Holland Pub., 1981. P. A. M. DIRAC, The Principles of Quantum Mechanics, (4a. Edici´on) Oxford University Press, 1958. R.P. FEYNMAN, R.B. LEIGHTON, M. SANDS, Fïsica Vol. III.- Mecánica Cuántica. Addison Wesley Iberoamericana, 1971. D. T. GILLESPIE, Introducción a la Mecánica Cuántica. Ed. Reverté, 1976. M. JAMMER, The Philosophy of Quantum Mechanics, Wiley Interscience. 1974. M. JAMMER, The conceptual development of Quantum Mechanics. The History of Modern Physics, 1800-1950. Vol. 12. Amer. Inst. of Physics, 1989. H. REICHENBACH, Philosophic foundations of Quantum Mechanics. University of California Press. 1944. J. VON NEUMANN, Fundamentos matemáticos de la Mecánica Cuántica. Publicaciones del instituto de Matemáticas "Jorge Juan". Madrid, 1949. B. L. VAN DER WAERDEN, Sources of Quantum Mechanics. Dover Pub., 1968.
Collections