Publication:
Migrantes latinoamericanos en Madrid: percepciones y significados sobre reproducción y sexualidad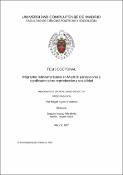 Files
Authors
Advisors (or tutors)
Editors
Publisher
Universidad Complutense de Madrid
Abstract
El grupo de población de entre 15 y 30 años de edad representa un tercio de los migrantes internacionales en el mundo y es el más globalizado, en parte debido a las redes virtuales. La investigación sobre la salud de este grupo, especialmente sobre su salud sexual y reproductiva en virtud de los procesos globalizados, es relevante, ya que de acuerdo con la Organización Internacional del Trabajo (OIT) hay 27 millones de jóvenes inmigrantes EN el mundo de entre 15 y 24 años de edad (OIT, 2013). Las personas jóvenes migrantes son un grupo heterogéneo que requiere la investigación de sus particularidades para comprender sus actitudes y percepciones acerca de los diversos contextos en los que se insertan. La migración debe entenderse como un proceso multidisciplinario en el que la política, la sociología y la antropología, integran a las ciencias de la salud y a la psicología. Estas ciencias contribuyen a generar un conocimiento más detallado de las microestructuras y las macroestructuras durante el proceso migratorio, origen, destino y tránsito. El tema de la sexualidad de los migrantes regulares latinoamericanos en Europa ha sido escasamente abordado por los investigadores. Conocemos la importancia de los estudios sobre migración y sexualidad en poblaciones irregulares debido a los riesgos y la vulnerabilidad a los que están expuestas, sin embargo cabe preguntarse acerca de lo que está ocurriendo con las personas migrantes regulares que encajan en la categoría de adultos emergentes, los que están emigrando para asistir a la universidad o a cursar un posgrado, las que han estado viviendo en la casa de sus padres hasta el momento de la migración o que viajan como parte de una aventura de vida, por ejemplo. Estas personas en su mayoría no están casadas y no tienen hijos, su perspectiva desde la adultez emergente es diversa...
The population group, between 15 to 30 years old, represent a third of international migrants worldwide and it is the most globalized one due to the virtual networks, therefore the study of their health is relevant, specially their sexual and reproductive health under the globalize processes. According to the International Labour Organization (ILO) there are 27 million of young immigrants around the world between 15 to 24 years old (OIT, 2013). Young migrants are a heterogeneous group who require the research of their particularities in order to understand their attitudes and perceptions about the diverse systems around them. Migration should be understood under a multidisciplinary process in which Politics, Sociology, and Anthropology, have to consider integrating in a more in depth way health and psychology. These sciences contribute to generate a more detailed knowledge of the microstructures and the macrostructures during the migratory process, origin, destiny and transit. Regular Latin American immigrant's sexuality in Europe has been rarely addressed by researchers. Even the known importance of irregular migration sexuality studies because of the risks and vulnerability to which they are exposed, we should ask ourselves about what is happening with those regular migrants that fit into the emerging adult category, those who are emigrating to pursue college or postgraduate courses, those who have been living in their parent́s home until migration, and that in most cases are not married, and do not have children...
Description
Tesis inédita de la Universidad Complutense de Madrid, Facultad de Ciencias Políticas y Sociología, leída el 26-09-2016
Collections