Publication:
Intensification of Photo-Assisted Advanced Oxidation Processes for Water Treatment: A Critical Review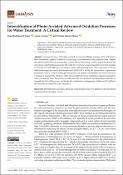 Advisors (or tutors)
Editors
Abstract
In recent decades, ultraviolet-assisted advanced oxidation processes (UV-AOPs) have been successfully applied to remove a wide range of contaminants from polluted water. Despite this, their extended use on an industrial scale is still far from being a reality, largely limited by the operational costs that these processes still entail. In recent years, many researchers have been working to increase UV-AOP efficiency and reduce capital and operating costs. This work aims to review different strategies devoted to the intensification of UV-AOPs. Firstly, the optimization of operational parameters, such as catalyst loading, pH, temperature, or oxidant concentration, has been reviewed as a strategy to augment the efficiency of the photocatalytic processes and reduce reagent consumption and/or treatment time. The review also discusses the development of photocatalytic materials to intensify the UV-AOPs process, and finally, the combination or integration of different UV-AOPs for the treatment of pollutants is also examined.
Collections