Publication:
Estudio proteómico de las vesículas extracelulares y del secretoma de "Candida albicans" y análisis funcional de proteínas de superficie celular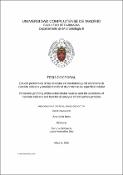 Files
Authors
Advisors (or tutors)
Editors
Publisher
Universidad Complutense de Madrid
Abstract
Candida albicans es un importante patógeno oportunista en humanos, que puede causar distintos tipos de infecciones, desde micosis superficiales hasta sistémicas. La candidiasis invasiva es una enfermedad que puede causar mortalidad en pacientes inmunocomprometidos. Para causar daño en el hospedador, C. albicans cuenta con una serie de factores de virulencia. Entre ellos destaca la capacidad de cambiar su forma de crecimiento de levadura a hifa. La superficie celular es la estructura más externa de la célula y el punto de contacto entre el hongo y el hospedador. Las proteínas de superficie tienen un papel importante en la integridad estructural de la célula y en la adherencia e invasión de células del hospedador. Una de las proteínas localizadas en la superficie celular es Ecm33, una proteína de pared celular con anclaje glicosilfosfatidilinositol (GPI). La deleción de esta proteína afecta a la morfología tanto de levaduras como de hifas, dando como resultado células con la pared celular alterada y virulencia reducida tanto en condiciones in vitro como in vivo. El secretoma o las proteínas secretadas por C. albicans son también relevantes en la interacción patógeno-hospedador. C. albicans secreta muchas proteínas importantes relacionadas con diferentes procesos, entre los que se incluyen la formación de biofilms, la adquisición de nutrientes y el mantenimiento de la integridad de la pared celular. Muchas de estas proteínas secretadas, como las pertenecientes a las familias de aspartil proteasas (Sap) y la familia de fosfolipasas B (Plb), también han sido detectadas en la pared celular, ya que deben pasar a través de ella en su tránsito hacia el medio extracelular. Estas proteínas tienen un péptido señal en el extremo N-terminal que es el responsable de dirigirlas a la ruta clásica de secreción. Sin embargo, cerca de un tercio de las proteínas identificadas en el medio extracelular de C. albicans no poseen dicho péptido señal en su secuencia...
Candida albicans is a commensal fungus in humans which causes different infections ranging from superficial to systemic. Invasive candidiasis is an important cause of disease and mortality in immunocompromised patients. The ability to switch from yeast to hypha growth is essential for virulence in C. albicans which express distinct cell surface proteins in these stages. The cell surface is the most external structure and the initial point of contact between the fungus and the host. Surface proteins play an important role in the structural integrity of the cell, adherence and invasion of host cells. One of these proteins is Ecm33, a glycosylphosphatidylinositol (GPI)-linked cell wall protein. The absence of this protein affects both yeast and hypha morphology and results in an aberrant wall structure and reduced virulence in vitro and in vivo. The C. albicans secreted proteins are also relevant in host-pathogen interaction. C. albicans secretes many important proteins involved in different processes, including biofilm formation, cell nutrient acquisition and cell wall integrity maintenance. Some secreted proteins, such as secreted aspartyl proteinases (Sap) and phospholipase B (Plb) families have been detected in the cell wall since they must pass through it to be secreted. These proteins have an amino-terminal signal peptide that is responsible for directing them into the classical secretory pathway. Furthermore, close to one-third of extracellular proteins identified in the C. albicans secretome do not possess a secretion signal. These proteins lacking the N-linked signal peptide should use alternative routes of exportation. Extracellular vesicles (EVs) have been described as a mechanism of molecular traffic across the cell wall to the extracellular space in fungi. All fungal species studied to date were apparently able to use EVs as a general mechanism of molecular traffic to transport intracellular proteins across the cell wall...
Description
Tesis inédita de la Universidad Complutense de Madrid, Facultad de Farmacia, Departamento de Microbiología II, leída el 11-02-2016
Collections