Publication:
Características de los recuerdos autobiográficos sobre sucesos traumáticos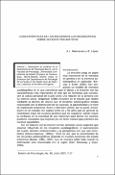 Authors
Advisors (or tutors)
Editors
Abstract
In the present study 120 autobiographical memories about traumatic events, with negative valence, and about happy events, with positive valence, were com-pared. In order to analyse the phenomenological characteristics of both type of memories an specific questionnaire based on the Memory Characteristics Questionnaire (Johnson et al., 1988) and on the Trauma Memory Quality Questionnaire (Meiser-Stedman et al., 2007) was used. In general and in relation to positive memo-ries, results showed that memories for trauma contained less sensorial information, were more complex, and more difficult to verbalise. Traumatic memories were also less temporally contextualized, associated to more intense feelings, and people remembered better what they thought at the time of occurrence and think about the event more frequently. In contrast, no differences were found between positive and negative memories on spatial location, vividness, definition, accessibility, fragmentation, remember perspective, doubts about the accuracy of the memory, and talk about the event. We can therefore conclude that traumatic memory is not as special as previously suggested, and that there are no data that allows us to confirm the existence of repressed, and then recovered, memories.[RESUMEN] En el presente trabajo se compararon 120 relatos intrasujetos de hechos autobiográficos traumáticos (con una valencia negativa) y felices (de valencia positiva), mediante un cuestionario de auto-evaluación de características de los recuerdos elaborado a partir del cuestionario MCQ propuesto por Johnson y cols. (1988) y el TMQQ propuesto por Meiser-Stedman y cols. (2007). Los resultados muestran que en general los recuerdos de hechos traumáticos en comparación con hechos alegres se caracterizan por contener menos información sensorial, ser más complejas, más difíciles de fechar, con sentimientos asociados más intensos, un mejor recuerdo de pensamientos asociados en el momento de su ocurrencia, más difíciles de expresar verbalmente y con más pensamientos recurrentes sobre lo ocurrido. Por el contrario, no se encontraron diferencias significativas sobre localización espacial del suceso, vividez, definición, accesibilidad, fragmentación, perspectiva de recuperación, dudas sobre su ocurrencia, ni tendencia a hablar sobre lo ocurrido. De este modo, las memorias sobre hechos traumáticos no parecen tan diferentes de las memorias sobre otro tipo de hechos autobiográficos, pero tampoco podemos confirmar la existencia de memorias reprimidas y después recuperadas.
Collections