Publication:
Re-significando la frontera: el caso de la eurociudad Chaves-Verín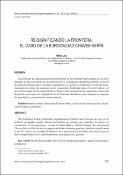 Advisors (or tutors)
Editors
Publisher
Asociación de Geógrafos Españoles
Abstract
Las políticas de regionalización transfronteriza en las fronteras interestatales de la Unión Europea se han convertido en un emblema de su construcción geográfico-política. A través de dotación institucional y de marcos legislativos, las periferias fronterizas se han ido transformando en centros de construcción de europeidad; localizada entre el sur de Galicia y el norte de Portugal, la Eurociudad Chaves-Verín será la herramienta de exposición y discusión de prácticas en torno a la resignificación de fronteras, abordadas como imaginarios espaciales paradójicos y en constante transformación.
The European Union transborder regionalization politics have become an icon of its political geography regime. Border peripheries are getting into centrality as centers of construction of Europeanness; located in South Galicia- North Portugal, the Eurociudad Chaves-Verín will be the tool to expose and debate bordering practices, border re-signification at the EU, and as an example to advocate for a necessary border theory that may focuse in their comprehension as a multidimensional and paradoxical process.
Collections