Publication:
El «dividendo de la paz». Defensa, economía y gasto social en la España de la segunda mitad del siglo XX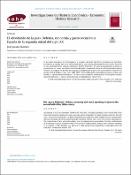 Authors
Advisors (or tutors)
Editors
Abstract
Se pretende determinar si en la España de la segunda mitad del siglo XX se produjeron los beneficios económicos y sociales derivados de la reducción del gasto militar producidos en otros países. Para ello se han construido series a precios constantes del PIB, de la FBCF, del saldo presupuestario, la deuda, el gasto militar, de bienes preferentes como la educación y la sanidad y del resto de los principales gastos sociales. La comparación de ellas muestra que el dividendo de la paz se dio esencialmente a partir de la instauración de la democracia. Entre 1950-1975 y 1976-2000, el peso de la defensa respecto al gasto del Estado y la riqueza nacional se redujo 3 y 2 veces, respectivamente, mientras que el de los gastos sociales,especialmente el de la sanidad y la educación, se multiplicó por varias veces.
An attempt is made to determine whether the reduction of military spending in the second half of the twentieth century in Spain generated economic and social benefits like those in other countries. For this aim, a series of constant prices has been constructed using the GDP, GFCF, budget balance, national debt, military spending, education spending, health spending and the other main social sector expenditures. The comparison of these series show that a peace dividend existed, particularly from the establishment of democracy onwards. Between 1950-1975 and 1976-2000 periods, military costs (defence spending as percentage of GDP) declined by a factor of 4, while social sector expenditures, especially health and education, increased by a factor of 3.
Collections