Publication:
Una mirada hacia mediar o no mediar en casos de violencia: Sara Cobb. Sara Cobb: A look upon mediating or not mediating in cases of violence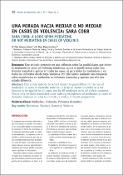 Advisors (or tutors)
Editors
Publisher
Asosciación Madrileña de Mediadores (AMM)
Abstract
Este articulo pretende ser una reflexión sobre las posibilidades que ofrece la mediación en casos de violencia doméstica, nunca se puede tomar como una fórmula magistral a aplicar en todos los casos, ni para todos los mediadores o en todos los contextos donde haya violencia. Por ello hemos realizado una búsqueda sobre experiencias en mediación en violencia domestica y aportar con ello una mirada diferente. [ABSTRACT] This article intends to reflect about the possibilities for the use of mediation in cases of domestic violence; it is by no means intended as a set formula to be applied in all cases, nor by all mediators or in all violent contexts. This is why we have researched some existing experiences of mediation in cases of domestic violence in order to contribute with a different perspective.
Citation
• BARUCH BUSH, R. A., FOLGER, J. P., (1996). La promesa de la mediación: cómo afrontar el conflicto a través del fortalecimiento propio y el reconocimiento de los otros Barcelona: Granica. • Bumiller, K. (1988) The Civil Rights Society: The Social Construction of Victims.Baltimore: Johns Hopkins Univ. Press. • Cárdenas, E. J.: – (1999) La mediación en conflictos familiares, Buenos Aires: Lumen. – (1992) «Familias en crisis». Fundación Navarro Viola. • CASANOVAS, P., MAGRE, J. y LAUROBA, M.E. (2011). Libro blanco de mediación en Cataluña. Barcelona: Generalitat de Catalunya. Departament de Justicia. • Cobb, S. (1997) «The domestication of violence in mediation». En la Revista Law &Society Review. Volumen 31, nº 3. Blackwell, Amherst, MA. EEUU. pp. 397-440 • Fernandez Santiago, P. (2007). Violencia familiar-la visión de la mujer en casas de acogida. Valencia:Tirant Lo Blanche. • Fisas Armengol, V. : - (2007) Procesos de paz y negociación en conflictos armados. Barcelona : Paidos. - (1987) Introducción al estudio de la paz y de los conflictos, Barcelona: Lerna D.L. • Foucault, M. (1979) Discipline and Punish: The Birth of the Prison. New York: Vintage Books. • Harrington, C. B., & Sally Engle M. (1988) «Ideological Production: The Making of Community Mediation» (Special Issue: Law & Ideology), 22 Law –Society Rev. 709-35. • Lefcourt, C. (1984) Women, Mediation and Family Law, 15 Clearinghouse Rev. 266. • Lerman, L. G. (1984) Mediation of Wife-Abusers: The Adverse Impact of Informal Dispute Resolution on Women, 7 Havard Women´s law Rev. 57-113. • Minow, M. (1987) «Interpreting Rights: An Essay for Robert Cover,», 96 Yale Law J. 1860-1915. • Munné M. y Mac-Gragh, P. (2006) Los diez principios de la cultura de mediación. Barcelona: Graó. • Otero Parga, M. (2007) Ventajas e Inconvenientes de la Mediación. En: Soleto Muñoz, H y Otero Parga, M. «Mediación y Solución de Conflictos: Ha b i l ida de s p a ra u na Ne c e s ida d Emergente». Madrid: Tecnos. • PARSONS, Ruth J. (1991), The mediator role in social work. Nacional Association of social Workers. School of Social Work and Community Planning. Baltimore: University of Maryland, • Retzinger, S. M., & Scheff T.J. (1966) «Strategy for Community Conferences: Emotions and Social Bonds,» in B. Galway & J. Hudson, eds., Restorative Justice.Albany, NY: Criminal Justice Press. • Rios Martin, J.C., Pascual Rodriguez E, Bibiano Guillen A y Segovia Bernabe J.(2008), Cuestiones Prácticas del Proceso de Mediación. En: Ríos Martin, J.C., Pascual Rodriguez E, Bibiano Guillen A y Segovia Bernabé J.L.: «La mediación penal y penitenciaria. Experiencias de diálogo en el sistema penal para la reducción de la violencia y el sufrimiento humano. Madrid: Colex. • Scarry, E. (1985) The Body in Pain: The Making and Unmaking of de World. New York: Oxford Univer. Press. • SLUZKI, C. E. (1993) Violencia familiar y violencia política: Implicaciones terapéuticas de un modelo general. En FRIED Schnitman, D. (Comp.): Nuevos Paradigmas, Cultura y Subjetividad. Buenos Aires: Paidos.
Collections