Publication:
La propaganda católica en el Extranjero de las dos Españas durante la guerra civil (1936-1939): Albert Bonet y Leocadio Lobo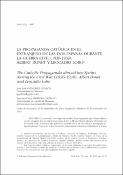 Advisors (or tutors)
Editors
Abstract
La presente investigación analiza la propaganda que desarrollaron en el extranjero los sacerdotes Leocadio Lobo y Alberto Bonet durante el tiempo de la Guerra Civil, al servicio del gobierno republicano y de la coalición insurgente respectivamente. Para ello se ha recurrido a importantes fuentes archivísticas y textos de la época, donde se nos ofrece un cuadro bastante detallado del intenso combate dialéctico que generó en diferentes países europeos la actuación de la Iglesia española entre 1936 y 1939.
This research analyzes the propaganda abroad developed the priests Leocadio Lobo and Alberto Bonet during the Spanish Civil War, both the service of republican government and the insurgent coalition, respectively. This has been resorted to important documentary sources and texts of the time, which gives us a fairly detailed picture of the dialectic that generated intense fighting in various European countries the performance of the Spanish Church between 1936 and 1939.
Collections