Publication:
Mitochondrial Oxidative Stress Promotes Cardiac Remodeling in Myocardial Infarction through the Activation of Endoplasmic Reticulum Stress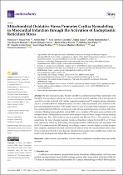 Authors
Cerón Nieto, María Ángeles
Advisors (or tutors)
Editors
Abstract
We have evaluated cardiac function and fibrosis in infarcted male Wistar rats treated with MitoQ (50 mg/kg/day) or vehicle for 4 weeks. A cohort of patients admitted with a first episode of acute MI were also analyzed with cardiac magnetic resonance and T1 mapping during admission and at a 12-month follow-up. Infarcted animals presented cardiac hypertrophy and a reduction in the left ventricular ejection fraction (LVEF) and E- and A-waves (E/A) ratio when compared to controls. Myocardial infarction (MI) rats also showed cardiac fibrosis and endoplasmic reticulum (ER) stress activation. Binding immunoglobulin protein (BiP) levels, a marker of ER stress, were correlated with collagen I levels. MitoQ reduced oxidative stress and prevented all these changes without affecting the infarct size. The LVEF and E/A ratio in patients with MI were 57.6 ± 7.9% and 0.96 ± 0.34, respectively. No major changes in cardiac function, extracellular volume fraction (ECV), or LV mass were observed at follow-up. Interestingly, the myeloperoxidase (MPO) levels were associated with the ECV in basal conditions. BiP staining and collagen content were also higher in cardiac samples from autopsies of patients who had suffered an MI than in those who had died from other causes. These results show the interactions between mitochondrial oxidative stress and ER stress, which can result in the development of diffuse fibrosis in the context of MI.
Collections