Publication:
Estudio medioambiental de materiales y compuestos avanzados para centrales termosolares de receptor central de torre con almacenamiento térmico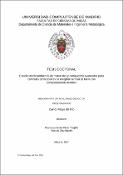 Files
Authors
Advisors (or tutors)
Editors
Publisher
Universidad Complutense de Madrid
Abstract
La generación de electricidad representa un porcentaje significativo de las emisiones de CO2 a la atmósfera. Este gas contribuye al efecto invernadero y el cambio climático por el efecto de la actividad humana. El incremento en el número de plantas para la generación de energía renovable, no hidroeléctricas, así como las mejoras tecnológicas han permitido la reducción de las emisiones y por lo tanto el valor indicativo de la huella de carbono. En los últimos años, la contribución del sector de la energía renovable para la generación de energía en el mundo sigue creciendo y esto se traduce en beneficios ambientales asociados a las tecnologías tales como plantas de energía solar concentrada (CSP). La generación de electricidad a partir de fuentes de energía renovables implica pequeñas cargas ambientales, un hecho demostrado por la técnica de análisis de ciclo de vida (ACV), siendo el método más adecuado para determinar el impacto ambiental. La técnica ACV enfocada a las plantas termosolares, representa los impactos asociados a todas las fases del ciclo de vida de una planta CSP, por lo general durante un período de 30 años, que incluye entre otros la extracción de materias primas, componentes de procesamiento, la construcción de la planta, operación, mantenimiento y desmantelamiento. En 2011, el National Renewable Energy Laboratory (NREL) dio a conocer un profundo estudio de una planta termosolar con tecnología de colectores cilindro-parabólicos, que se encuentra en Daggett, California. El inventario de materiales para el ciclo de vida de este estudio y los datos de rendimiento para una planta de 103 MW, junto con los datos proporcionados por el bloque de potencia para un período de 6,3 horas con almacenamiento térmico mediante sales fundidas (TES) fueron proporcionados por Worley Parsons Group. Mediante el ACV, fueron evaluadas las emisiones de gases de efecto invernadero (GEI), el consumo de agua y la demanda acumulada de energía (CED)...
The electricity generation is a significant percentage of CO2 emissions linked to production. This gas contributes to greenhouse effect and climate change by the human activity effect. The increase in the number of non-hydroelectric renewable energy plants for power generation, as well as technological improvements have allowed lowering emissions and thus the indicative value of carbon footprint. In recent years, the contribution of renewable energy sector for power generation in the world continues to grow and this results in environmental benefits associated with technologies such as concentrated solar power plants (CSP) or power. The electricity generation using renewable energy sources involves small environmental loads, a fact demonstrated by the technique of life-cycle assessment (LCA), being the most suitable method for determining environmental impacts. The LCA represents the impacts associated with all stages of the life cycle of a CSP plant, usually over a period of 30 years, which includes among others the extraction of raw materials, processing components, plant construction, operation, maintenance and decommissioning. In 2011 the National Renewable Energy Laboratory (NREL) released a stroke of a CSP plant with parabolic trough technology, located in Daggett, California. The materials inventory for the lifecycle of this study and performance data for a plant of 103 MW along with the data provided by the power block for 6.3 hours period with thermal storage in molten salts (TES) were provided by Worley-Parsons Group. In this life cycle assessment emissions of greenhouse gases (GHGs), water consumption and CED they were evaluated. Subsequently they included as alternatives to the study, the power block wet cooling, thermal storage configuration and the medium storage to achieve a broader environmental impact that could happen in similar plants developed in USA spectrum...
Description
Tesis inédita de la Universidad Complutense de Madrid, Facultad de Ciencias Químicas, Departamento de Ciencia de Materiales e Ingeniería Metalúrgica, leída el 28-11-2016
Collections