Publication:
Una mirada al teatro español desde la luz (siglos XIX-XX) : la palabra, el silencio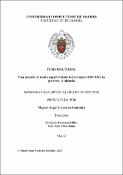 Files
Authors
Advisors (or tutors)
Editors
Publisher
Universidad Complutense de Madrid
Abstract
El concepto de diseño de iluminación en la puesta en escena teatral, tal y como lo entendemos hoy en día, es el resultado de una evolución a lo largo de la historia del teatro español. Fue un proceso largo, lento y determinado por la compleja historia del país. Por ello, la figura del iluminador teatral y su desarrollo fue fruto del esfuerzo de modernización, iniciativa y pasión artística de muchos profesionales, entre los que destaca la figura capital de Rafael Martínez Romarate. Se partió de un origen precario debido a la pobre asimilación de las nuevas tendencias escénicas por parte de la profesión teatral y al enorme retraso con el que se implantaron en los teatros las nuevas tecnologías aplicadas a la luz. Estos dos factores dilataron en el tiempo la comprensión de que la luz era una herramienta esencial en la expresión de un discurso escénico contemporáneo. En esta investigación analizaré, desde las primeras iniciativas de los siglos XVIII y XIX, cuando se comenzó a hablar de la iluminación teatral, hasta el período dela Segunda República...
The concept of lighting design in theatrical staging, as we understand it today, results from an evolution throughout the history of Spanish theater- which was a long, slow process determined by the complex history of the country. For this reason, the figure of the theatrical illuminator and his development is the result of the modernization effort, initiative and artistic passion of many professionals, among which the capital figure of Rafael Martínez Romarate stands out. It started from a precarious origin due to the poor assimilation of new scenic trends by the theatrical profession, and the enormous delay with which new technologies applied to light were implemented in theaters. These two factors delayed the understanding that light was an essential tool in the expression of a contemporary stage discourse. I will study from the first initiatives in the eighteenth and nineteenth centuries, where they began to talk about theatrical lighting, until the period of the Second Republic...
Description
Tesis inédita de la Universidad Complutense de Madrid, Facultad de Filología, leída el 12-05-2022
Collections