Publication:
Correlación entre la ecografía vascular 3D, resonancia magnética y tomografía por emisión de positrones en la detección y caracterización de la aterioesclerosis en aorta de conejo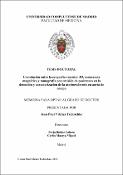 Files
Authors
Advisors (or tutors)
Editors
Publisher
Universidad Complutense de Madrid
Abstract
La aterosclerosis es una enfermedad que genera un elevado coste tanto en lo económico como en lo social, debido a sus principales consecuencias, el infarto de miocardio y el ictus. Su estudio ha demostrado mejorar la predicción de eventos clínicos sobre los factores de riesgo convencionales, abriendo la posibilidad de incluir la imagen como parte delas estrategias de prevención, especialmente desde las fases más precoces de la enfermedad.La aterosclerosis comienza con la formación de estrías grasas en la pared vascular, que evolucionan acumulando colesterol y células inflamatorias, especialmente monocitos...
Atherosclerosis is a disease that generates high economic and social costs, due to its main consequences, myocardial infarction and stroke. Its study has demonstrated to predict better clinical events over conventional risk factors, giving the possibility to include imaging tests as part of the prevention strategies, especially in early stages of the disease. Atherosclerosis starts with the formation of fatty streaks in the vascular wall, evolves accumulating cholesterol and inflammatory cells, specially monocytes. It is an active process, in which the inflammatory activity plays an important role...
Description
Tesis inédita de la Universidad Complutense de Madrid, Facultad de Medicina, Departamento de Medicina, leída el 25-11-2019
Collections