Publication:
The Visual Construction of the Umayyad Caliphate in Al-Andalus through the Great Mosque of Cordoba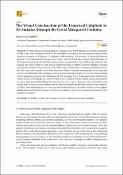 Authors
Advisors (or tutors)
Editors
Abstract
My first exposure to the epigraphic program of the Great Mosque of Cordoba, published in 2001, came from reading an article on the ideological meaning of the decoration and the Quranic citations inscribed in al-H. akam II's addition to the building. In that article, I concluded that the Quranic verses found in the mosque were chosen not only for being a universal proclamation of divine power and praise for the Umayyad dynasty, as proposed by Nuha Khoury in 1996, but also because they clearly fitted in with the particular Andalusi, or rather Cordoban, religious, cultural, and political context in the first half of the 10th century. Most of the inscriptions had been read in the 19th century by Amador de los Ríos, but some of them remained uninterpreted. Given that they were an essential part of the ideological message, it seemed appropriate to revisit the critical reading of the epigraphic program and determine its full meaning. Later, I discussed other architectural aspects of the Great Mosque in which the links to the Andalusi and the eastern Umayyad traditions are a key aspect in understanding why these forms were chosen. Damascus, the eastern Umayyad capital, and to a lesser extent Medina and the Abbasid capitals, became the model for the caliphs of Cordoba. This article proposes to revisit the main architectural and decorative features of the caliphal enlargements of the Great Mosque of Cordoba in order to reflect on the meaning and forms of its epigraphic program.
Collections