Publication:
Orígenes, desarrollo y ocaso de la cultura del Bronce de La Mancha. Nuevas aportaciones a los procesos de transformación y cambio en el Alto Guadiana durante la Prehistoria Reciente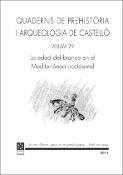 Authors
Advisors (or tutors)
Editors
Publisher
Servei d' Investigacions Arqueològiques i Prehistòriques de la Diputació Provincial de Castelló.
Abstract
Este trabajo presenta el estado actual de la investigación sobre la Prehistoria Reciente en el Alto Guadiana. La compilación de datos arqueológicos que se encontraban dispersos se pone al servicio de la explicación de los procesos de cambio cultural sucedidos en los tres primeros milenios anteriores a nuestra era; procesos que conducen desde la colonización de la comarca por medio de pequeñas aldeas calcolíticas emplazadas a lo largo de los ríos hasta la génesis de los grandes oppida oretanos que dominaron todo el territorio.
This paper presents the current state of research on the Late Prehistory in the Upper Guadiana territory (La Mancha-Spain). The collection of scattered archaeological data lets to explain the processes of cultural change that occurred in the first three millennia before our era; processes that lead from the colonization of the region through small Chalcolithic villages located along the rivers to the genesis of the great Oretan oppida.
Collections