Publication:
Vector dark energy and high-z massive clusters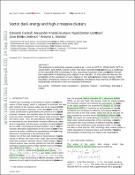 Advisors (or tutors)
Editors
Abstract
The detection of extremely massive clusters at z > 1 such as SPT-CL J0546-5345, SPT-CL J2106-5844 and XMMU J2235.3 2557 has been considered by some authors as a challenge to the standard ? cold dark matter cosmology. In fact, assuming Gaussian initial conditions, the theoretical expectation of detecting such objects is as low as =1 per cent. In this paper we discuss the probability of the existence of such objects in the light of the vector dark energy paradigm, showing by means of a series of N-body simulations that chances of detection are substantially enhanced in this non-standard framework.
Description
© 2011 The Authors. Monthly Notices of the Royal Astronomical Society. EC is supported by the MareNostrum project funded by the Spanish Ministerio de Ciencia e Innovacion (MICINN) under grant no. AYA2009-13875-C03-02 and MultiDark Consolider project under grant CSD2009-00064. AK acknowledges support by the MICINN's Ramon y Cajal programme as well as the grants AYA 2009-13875-C03-02, AYA2009-12792-C03-03, CSD2009 00064, and CAM S2009/ESP-1496. GY acknowledges support from MICINN's grants AYA2009 13875-C03-02 and FPA2009-08958. JBJ is supported by the Ministerio de Educacion under the post doctoral contract EX2009-0305 and also wishes to acknowledge support from the Norwegian Research Council under the YGGDRASIL programme 2009-2010 and the NILS mobility project grant UCM-EEA-ABEL-03-2010. We also acknowledge support from MICINN (Spain) project numbers FIS 2008-01323, FPA 2008-00592 and CAM/UCM 910309.
Collections