Publication:
Los factores determinantes de la capacidad de innovación en el contexto de la microempresa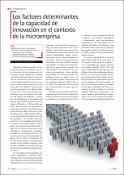 Advisors (or tutors)
Editors
Publisher
Federacion Asociaciones Ingenieros Industriales España
Abstract
Tradicionalmente, el estudio científico sobre la innovación y capacidad innovadora de las empresas se ha centrado en mayor medida en las grandes empresas dejando a un lado las pequeñas y sobre todo las microempresas. Los factores estudiados se han centrado en variables que vienen definidas por el propio sector de actividad y por datos cuantitativos relacionados con las inversiones de la empresa (inversión en I+D, esfuerzo innovador...etc.), dándose una menor importancia a los factores directamente relacionados con el propietario de la empresa (edad, estudios, valores y responsabilidad social...etc.), y con la forma de gestión y trabajo interno (utilización de TIC, empleo de estrategias empresariales...etc.). Por este motivo, la originalidad del presente trabajo se basa precisamente en el estudio de la capacidad innovadora de la microempresa en España, teniendo especial relevancia el actual contexto de crisis económica, analizándose relaciones entre capacidad innovadora y los factores internos que definen la gestión de este tipo de empresas en el actual contexto económico (Utilización e TIC, Estrategias utilizadas, Edad del empresario, Estudios, Valores, RS, etc.)
This exploratory study presents a comparison of innovative and non-innovative microenterprises. One sample is formed by companies involved in product innovation during the current economic crisis and the other is formed by companies not involved in product innovation during the same period. The comparison analyzes which internal factors, supported by the literature as the influential factors of small business innovation, are significant when explaining the main differences between innovative microenterprise and non-innovative ones. The results suggest that the factors related to the organization and activity of the company are the factors which explain the differences between these two types of firms, rather than those factors related to micro-entrepreneur's own profile.
Citation
Platero-Jaime, M.; Benito-Hernández, S.; Rodríguez-Duarte, A. et al. Differences between innovative and non-innovative microenterprises: Internal factors, DYNA Management. January 2014. Vol. 2-1 p.1-10. DOI: http://dx.doi.org/10.6036/MN7160.
Collections